Our Easy Corner Shelf Comes in 12 Different Colors – GoShelf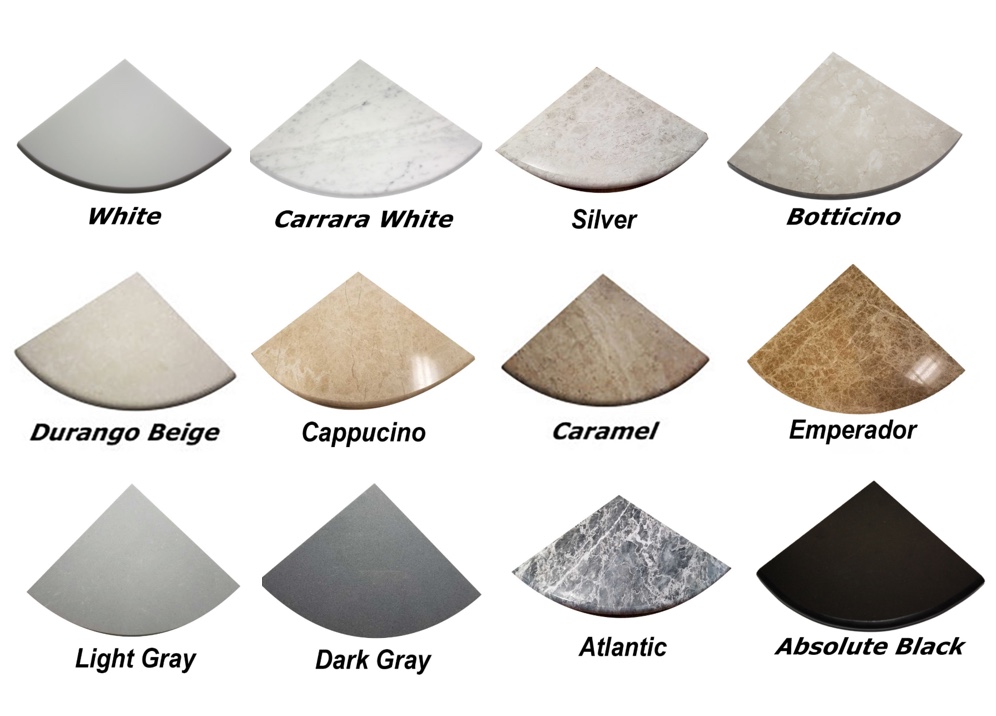 Exercise more, call your Grandma once a week, get more organized. Every year, people all over the globe make new year's resolutions, but did you know that only 8% of people actually follow through? While we may not be able to drive you to the gym or remind you to call Grammy, we can definitely help you get more organized! The GoShelf is an easy corner shelf that's a cinch to install and provides great organization and style to any shower or tub.
Which of These 12 Beautiful Styles Suits Your Shower?
White
White is a modern and clean choice for any shower or tub. This shelf looks especially nice on subway tile.
Carrara White
Marble is a bathroom mainstay for a reason. It has a classic appeal that always feels a little luxurious.
Silver

Don't let the name fool you, this silver shelf isn't metallic. Instead, it gets its name from the seriously gorgeous feathered silver strands throughout this stone.
Botticino

Lighter than our Cappuccino shelf, the Botticino is a lovely golden hue that'll warm up any shower or tub.

Durango Beige
If you're looking for a beautiful neutral base, a beige is a great way to go.
Cappuccino
Mellow and inviting, the cappuccino shelf is a great addition to matching tile or white tile.
Caramel
Made from high-quality marble, the caramel shelf is a warm-hued beige with light white veining throughout.
Emperador
Perfect for Spanish villa or mission style bathroom.
Light Gray

For a chic space, gray is a great neutral palette. Our easy corner shelf would look great with while tile, black tile or a variety of gray stone, making our gray shelves some of our most versatile.
Dark Gray
Another solid choice for a modern or masculine space, the dark gray corner shelf is great for a range of palettes.

Atlantic
The white veining in this gray-blue marble will instantly remind you of ocean waves crashing.
Absolute Black
This pure black shelf is great for a modern or a throwback Victorian bathroom.
Get Your Own Easy Corner Shelf from GoShelf
Ready to order your very own GoShelf? Visit our Product Page to select your favorite style and your easy corner shelf will be on its way to you in no time!