Our Gray Corner Shower Shelf Floats Wherever You Need Storage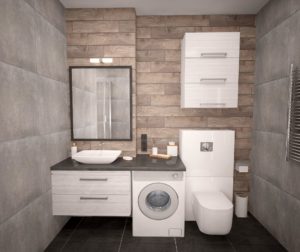 A few weeks back, we discussed the versatility of beige in the bathroom. But there's another beautiful neutral that is too often dismissed because of its reputation for being a bit dreary: gray. Gray has the unique ability to serve as a warm or cool tone and is wonderful as an accent or the leading color in any bathroom design. Whether your bathroom is modern, rustic or beachy, we have the perfect gray corner shower shelf for you.
Which Gray Corner Shower Shelf is Right for You?
If you're looking for a shelf to suit your gray bathroom, we have four gorgeous shelves that fit the bill. You can choose between our light gray, dark gray, silver, and Atlantic styles, all of which are available in 7, 8, and 9-inch sizes. After you've picked out the perfect GoShelf for your bathroom, use our simple order form to get it shipped right to your door.  If you aren't sure which shelf you'd like, you can always order samples to see the stone in person.
Once your GoShelf arrives, you'll have everything you need to install your brand new gray corner shower shelf. Here's what you'll get:
High-quality ¾ inch stone shelf
Four (4) anchoring plates
Adhesive
Detailed instructions
Handheld grout saw
How to Install Your GoShelf
Even a less experienced DIYer can install their very own GoShelf in just six simple steps:
Remove Grout. Use your handheld grout saw to remove the grout from the area where you want to install your GoShelf.
Glue the Anchoring Plates. Cover the top and bottom of half of each anchoring plate. The glue-covered portion is what will be inserted into the wall.
Insert the Anchoring Plates. Securely place your anchoring plates into the wall where you removed the grout during Step 1.
Glue Channels. Using the same adhesive, run the glue into the channels along the sides of your gray corner shower shelf.
Install Your GoShelf. Right after placing glue in the channels, place your GoShelf onto the anchoring plates protruding from the wall. Press firmly to ensure a snug fit.
Finishing. Once the glue is dry, apply grout or caulk along the area of the shelf that meets the wall for a long-lasting waterproof seal.
Order your gray corner shower shelf today and use the code 'FREESHIP' to get free shipping on your purchase.