Black Bathrooms are Trending: Learn to Install Your Own Black Corner Shower Shelf
Black and white bathrooms are having a moment right now. It's certainly not the first time we've seen it; black and white tiles have long been both a Victorian and ultramodern mainstay. But this clean and elegant look is being seen more and more in contemporary homes. If you'd like to try this trend and add a little black to your bathroom, try adding a black shower shelf from GoShelf. Order yours today!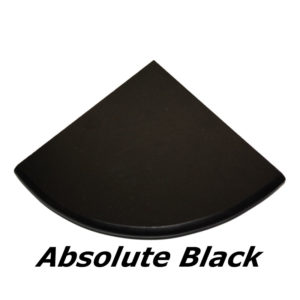 Installation Instructions
Our shelves are easy to install and to make it even simpler, we provide all the tools you need to get the job done!
1. Remove the Grout
Remove the grout where you're going to install your black shower shelf. Be sure to vacuum afterward to keep your workspace clean.
2. Prepare Your Anchoring Plates
Take the included adhesive and spread it on half of each anchoring plate, making sure to cover both the bottom and top of the plates. To keep your tub tidy, consider lining it with a towel before this step.
3. Insert Anchor Plates into Wall
Once the plates are covered with adhesive, place the glued half into the area from which you just removed the grout. Space your plates evenly and make sure they fit tightly into the wall.
4. Add Glue to Channels
Now that your anchoring plates are securely in the wall, you can squeeze the remaining glue into the mounting channels of your black ceramic shower shelf. Try not to get too much extra glue outside of the channels. To remove the excess glue, you can wipe the shelf off with a damp rag.
5. Install Your GoShelf
Next, you can install your GoShelf. Place the channels onto the anchoring plates. Press firmly to ensure your shower shelf is tightly fitted into the corner of your shower stall. Once the glue has dried, you can add a bead of caulk or grout to make a watertight seal.
Note: Check out our Instructions page for a more detailed tutorial.
Order Your Black Shower Shelf Today!
Still wondering if GoShelf is for you? Check out our testimonials and see why DIYers and professionals alike love GoShelf. Then, order yours today!