Need a Corner Shelf for a Shower or Bath? Try GoShelf!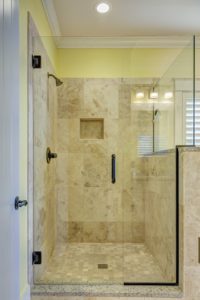 Whether you have a huge jetted bathtub or a small shower stall, chances are you have unused vertical space. In each corner of your shower area, you have an opportunity to increase your storage and accent your style. To bring order and style to your bathroom, install a GoShelf, the perfect corner shelf for shower or bath.
No Matter Your Style, We Have a Shelf for You
We offer 11 unique styles of GoShelf shelves in three sizes (7, 8 and 9-inches). Our shelf styles are made of the highest quality stone and range from classic Carrara marble to modern black. With so many options to choose from, you may want to order samples first to see them in person.
How Will You Use Your Corner Shelf for Shower or Bath?
Once you've selected your shelf style and size(s), it's time to think about how many shelves you need and what type of installation you want. Perhaps you want a shelf for every family member or a single shelf in each corner. There are tons of different ways to design your space to make it uniquely functional for your lifestyle. We even have clients that install a GoShelf lower in the shower to use as a leg shaving shelf!
How to Install Your GoShelf
Beyond our fantastic selection, the next great perk of GoShelf is our easy yet long-lasting installation method. The process is both well-conceived and simple, making it a favorite among DIYers and professional tile contractors. Here's how you install a GoShelf:
Select the location where you want to install your corner shelf. Then, take the hand-held grout saw included in your kit and remove the grout between the tiles where your shelf is going to be located
Cover half of each anchoring plate (top and bottom) with the enclosed glue and insert the glue-covered portion of the plates into your wall
Use the rest of the glue to coat the channels of the stone GoShelf
Press the GoShelf onto your anchoring plates and wait for the glue to dry
Grout or caulk around the shelf to ensure a watertight seal between your shelf and wall
Read more about GoShelf installations by checking out our tutorial video and detailed instructions.
Order Your GoShelf Today!
Learn more about GoShelf by watching our demo video and then take advantage of our buy three get free shipping deal and order the perfect corner shelf for shower or bath today!