Enthrone Your Shower Shampoo! Corner Shelf for Stylish Storage
In the U.S., the average woman spends $10.50 a month on shampoo and conditioner; that's $126 a year! When you're spending that sort of money on something, you may as well have a nice place to put it. If you're looking for stylish shampoo storage, consider enthroning your hair care products in a shower shampoo corner shelf from GoShelf.
Gorgeous Choices for Any Style of Bathroom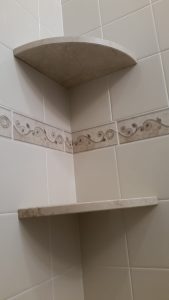 With 11 different styles of shelves, we have something for everyone. Our styles include:
Absolute Black
White
Carrara White
Botticino
Durango Beige
Emperador
Cappuccino
Dark Gray
Light Gray
Silver
Atlantic
Once you've picked your shelf style, all that's left to do is select your size. Shelves come in 7, 8, and 9-inch sizes.
How to Install Your Shower Shampoo Corner Shelf
Installing a GoShelf is simple and straightforward. Once you've received your GoShelf, you'll see that your installation package contains everything you'll need to successfully install your shower shampoo corner shelf. Here's what you'll get:
GoShelf
Adhesive
Anchoring plates
Handheld grout saw
Razor blade
Instructions
And, here's how to install your shower shelf:
Decide on the location you'd like to install your corner shelf.
Use the hand-held grout saw to remove grout between the tiles where your new shelf will soon be placed.
Use the adhesive to cover half of each anchoring plate, both the top and the bottom. Then, place the glue-covered portion of the anchoring plates into the wall.
With the remaining adhesive, cover the channels in the GoShelf.
Place your GoShelf onto the plates.
Wait for the glue to dry for 24 hours.
For an even more waterproof seal, use grout or caulk around the shelf.
If you'd like to familiarize yourself with the process before you start your installation, check out our tutorials. To learn about other customer's installation experiences, check out our reviews.
Order Your GoShelf
Give your toiletries the stylish space they deserve. After ordering and installing your own GoShelf, you'll be able to place your shampoo in a place of prominence and feel positively regal as you lather those locks!