After-Tile Corner Shelf That Protects Existing Tile – GoShelf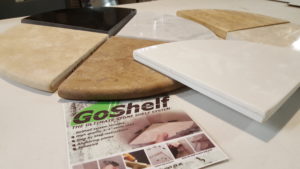 A beautifully tiled shower or tub can be a great focal point of any bathroom, but expertly installed tile doesn't come cheap. In fact, the average cost to get your bathtub surround tiled is between $3,000 – $4,000! With a price tag like that, it only makes sense to protect your investment. We invented GoShelf as a safe way to add a shelf to already tiled walls. As an after tile corner shelf, GoShelf actually protects your tile, beautifully accents your style and provides great organization to your bathroom. Read on to learn more about GoShelf.
Why Choose a GoShelf for Your DIY Bathroom Shelving Needs?
Aside from our easy DIY installation method, there are three main features that set GoShelf apart from the competition: durability, strength and style.
Durable Design
Rather than a self-adhesive shower shelf or a caddy, why not pick something that lasts? Because our shelves are made of stone, they'll never rust like a metal caddy or crack like an old plastic shelf.
Strong Shelving
We designed GoShelf to be the strongest after-tile corner shelf on the market. Because of our expertly designed installation system, GoShelf can hold up to 200 lbs! That means you'll always have a place to stash your shampoo and shave your legs.
Chic Style
Our durable stone shelves are available in 12 beautiful styles including the brightest whites and most luxurious marbles.
Absolute Black
White
Carrara White
Botticino
Durango Beige
Emperador
Cappuccino
Dark Gray
Light Gray
Atlantic
Silver
Caramel
In addition to our wide range of colors, our after-tile corner shelf options are also available in 7, 8, and 9-inch sizes so you can select the best size for your shower stall or tub. If you aren't sure which style you'd like, you can always order samples.
Tip: If you're looking for lots of storage and style, consider a stacked shelving option!
GoShelf: The After-Tile Corner Shelf
If you want to update your bathroom without diminishing the high-quality look of your tile, install a GoShelf! Because of our wide selection, we've got the perfect after tile corner shelf for your bathroom no matter your style. And, if you order 3 or more, you'll get free shipping!