The DIY Bathroom Shelf You Can Install on Existing Tile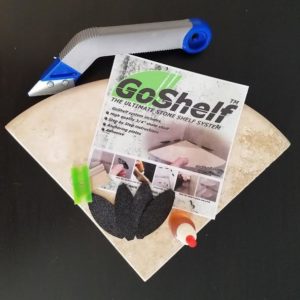 Did you know that 63% of people sing in the shower? If you're not one of them, don't worry, we're about to give you something to sing about! That's right, at GoShelf we've designed the perfect DIY bathroom shelves that are so beautiful you'll be singing their praises every time you reach for the shampoo. Best of all, a GoShelf can be installed in just a few hours, doesn't require any tile experience and looks like a professional installed it. Ready to learn more?
Pick Your Perfect Shower Shelf
We've carefully sourced not one, not two, but 12 gorgeous styles of stone shelves so that our customers can pick one that perfectly suits their shower. You can choose between:
Atlantic
Botticino
Cappuccino
Carrara Marble
Durango Beige
Emperador
Absolute Black
White
Dark Grey
Light Grey
Silver
Caramel (our newest addition)
If you're not sure which style to choose, you can always order samples. Don't forget to use our code 'Freeship' to get free shipping.
How to Install Your GoShelf
Like any good DIY project, the GoShelf provides great results without being too complicated. You can install your shelves in just 7 steps.
Select the location where you intend to install your GoShelf.
Use the handheld grout saw to cut away the grout at your chosen location.
Use the adhesive included in your kit to cover the tops and bottoms of half of each anchoring plate.
Insert the plates into the grout holes.
Use the rest of the adhesive to fill the channels of your GoShelf.
Press your GoShelf firmly onto the anchoring plates.
Wait 24 hours and then use grout or caulk to create a watertight seal all around the area where the shelf meets the tile wall.
Note: Check out our site for more detailed instructions and tutorial videos.
Don't Wait to Install Your DIY Bathroom Shelves – Order Yours Today!
If you're ready for a more stylish and more functional shower space, take matters into your own hands with GoShelf. Our Buy 3 Get Free shipping deal is perfect for folks looking for a set of DIY bathroom shelves, so order yours today.