GoShelf: Easy DIY Tile Soap Shelf Invented by a Tile Contractor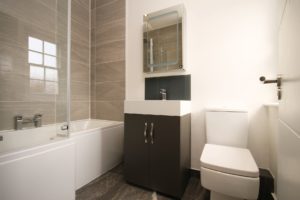 A secretary invented Liquid Paper. A parent invented the no-spill sippy cup. Sometimes, you just need to be in the thick of it to invent something truly great. That's what happened with GoShelf. Ian Stefenack, an experienced tile contractor, had been doing bathrooms remodels for years when he figured out there was a better way to install a tile soap shelf. Rather than wrecking the existing tile work to add a shelf, he developed a much simpler method. In fact, the method is so simple that you don't need any tile experience to install your very own. Want to learn more? Here are some of the most common questions (and answers) we get about GoShelf.
What is GoShelf?
GoShelf is the ultimate stone shelf system. It's a DIY product that provides everything you'll need to install a gorgeous, sturdy, and functional tile soap shelf. GoShelf is available in three sizes and 11 different styles. So, whether you're looking for modern, traditional, or something in between, we've got you covered.
How Do You Install GoShelf?
Easily! It's a 6-step process that you can finish in a few hours and use in just 24 hours. It's so much simpler (and cheaper!) than having a tile contractor come out and tear up your tile wall to install new shelving. Here's how you do it:
Take the grout saw provided in your kit and remove the grout from in between the tile where you plan to install your tile soap shelf.
Take an anchoring plate and cover half of it (top and bottom) with the provided adhesive.
Insert the plate into the holes in your tile grout. Repeat Steps 2 and 3 for all anchoring plates.
Use the leftover glue to fill the channels on the shelf.
Place the channels of the GoShelf onto the anchoring plates.
Once the glue dries, run a bead of caulk to create a watertight seal.
Check out our demo video to see how simple the installation process is.
How Do I Get My Own Tile Soap Shelf?
You can order your GoShelf on our site. If you see a shelf style that you like but aren't sure if it will match your tile exactly, you can always order a sample (which you can have shipped to you for free when you use our code 'FREESHIP').