GoShelf: The Stone Shampoo Shelf You Can Install Yourself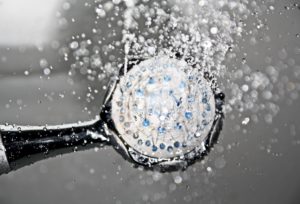 If you've just bought a home in need of updating, the bathroom is a smart place to start. Bathroom renovations are one of the best ways to add value to your home and improve your quality of life. The only trouble with bathroom remodels is they're notoriously pricey and many improvements are hard for a newer Do-It-Yourselfer to complete. Thankfully, installing a GoShelf, our gorgeous shampoo shelf, is an inexpensive and easy way to boost the beauty and functionality of your shower space.
What is a GoShelf?
A GoShelf is a high-quality stone shampoo shelf that you can install on your own. It was invented by Ian Stefenack, a tile contractor with over 20 years of experience. After years of renovating bathrooms, Ian knew there had to be a better way. His GoShelf system makes it easier (and more beautiful) than ever to add corner shelving in bathtubs and shower for pros and homeowners alike.
We Have Nearly a Dozen Designs, Which Will You Choose?
Our shampoo shelf is available in three sizes; 7, 8, and 9-inch in the following varieties:
Absolute black
Atlantic
Carrara White
White
Botticino
Durango Beige
Emperador
Cappuccino
Dark Gray
Light Gray
Silver
If you'd like to see samples of any of these varieties, you can order them. Don't forget to use our code 'FREESHIP' to get free shipping.
How to Install Your Very Own Stone Shampoo Shelf
Once you've chosen and ordered your shelves, we'll ship them out right away. Then, all that's left to do is install them. Here's how to do it:
Use the grout saw to remove grout from between the tile where you want to install your shampoo shelf.
Cover half of each anchoring plate with the enclosed adhesive (top and bottom).
Insert the plates into the holes in your tile grout.
Place your shampoo shelf onto the anchoring plates.
Run a bead of caulk or grout (after you let the glue dry) to create a watertight seal around your new shelf.
In addition to the instructions you'll get with your order, we have detailed instructions online as well as photos and videos available.
"It's absolutely amazing how much faster it is to do it this way!" – Steve K., Tile Contractor
Order Your GoShelf Today
Are you ready to spruce up your shower? A gorgeous shampoo shelf is a surefire way to improve your organization and make your bathroom feel a little more spa-like. Order yours today!