GoShelf: Shower Corner Shelves Built In To Existing Tile!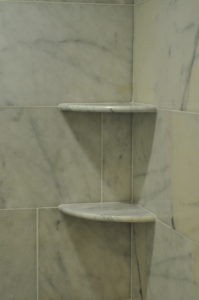 Looking for shower organization with a high-end look? Shower corner shelves built in to your existing tile are the perfect solution! GoShelf, invented by a tile contractor with over 20 years of experience, is designed to be installed easily by professionals and DIYers alike. Once installed, our sturdy shelving adds beauty and functionality to your shower for years to come!
Shower Corner Shelves for Every Style of Tile
Whether your bathroom is neutral, modern or somewhere in between, we've got the perfect shelf for you. With 11 styles and three sizes to choose from, we're confident you can a GoShelf that fits right in with your space. Aren't sure which style to choose? Consider ordering samples to see them in person. Don't forget to use the code 'FREESHIP' to get free shipping on your samples.
How to Install Your GoShelf
In just a few simple steps, you can have your own shower corner shelves built into your shower:
Measure – Select where you want to install your GoShelf and mark where you'll need to remove the grout to insert the anchoring plates.
Grout removal – Using the handheld grout saw, remove the grout from the four sections you designated in the previous step.
Prepare and insert your anchoring plates – Cover half of each anchoring plate (top and bottom) with the included adhesive. Then, place the plates into the holes in the grout.
Prepare your shelving channels – Carefully coat the channels in your shelf with glue, taking care not to squirt in too much.
Install your GoShelf – Place your GoShelf onto the anchoring plates and ensure a secure fit.
Seal your shelf – Allow the glue to dry for a few hours and then add caulk or grout to finish the look and create a watertight seal on the shower corner shelves built in to your existing tile.
Check out our detailed instructions for more information or take a look at our quick demo to see how it's done!
Get Your Shower Corner Shelves Today!
Select from our 11 gorgeous varieties and order your shelves today! Installing multiple shower corner shelves? For a limited time, enjoy free shipping when you buy three or more!