Get a Gorgeous White Shower Shelf with GoShelf
Whether it's subway tile, Carrara marble or something in between, a bright white shower or bath is a great complement to a crisp and clean bathroom design. An all-white minimalist look can be pleasing to the eye, but the lack of storage can make day-to-day life tough. That's where GoShelf comes in! You can add a sleek white shower shelf to increase the function of your space without diminishing your modern aesthetic. No matter the material your shower is made of, we've got fantastic white shower shelf options!
White Shower Shelf for Marble Showers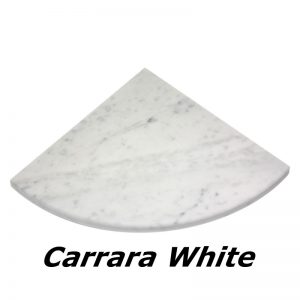 We've got shelving options for all types of marble showers, including Botticino, Carrara, and Travertine. Our Carrara White shelf has delicate veining that will blend beautifully with your existing walls. All of our shower shelves come in 7, 8 and 9-inch sizes, so you can select the one that's perfect for you. Regardless of size, you'll have a shelf that can hold up to 200 lbs, so it's great for storage and for shaving your legs with confidence!
Granite Showers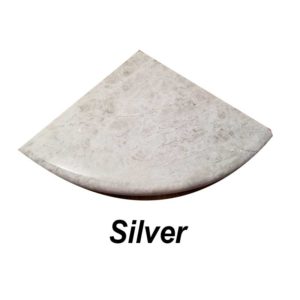 In the past decade, many homeowners have opted for granite showers instead of traditional marble. In many cases, granite is just as attractive as marble while also providing greater durability. If you have a granite shower and want a white shower shelf, there are a few GoShelf choices for you. Our Carrara White, basic white, and silver shelves would all look like natural fits for your granite shower.
Tile Showers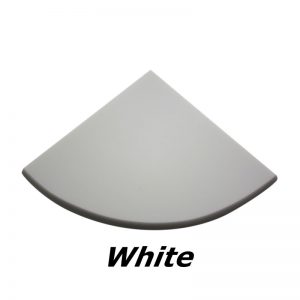 If you have a white tile shower, our standard white shower shelf is a great option. Its simple design won't detract from any other focal points and it can suit any type of tile. Whether you have subway tile, small grid or large tiles, as long as you have horizontal grout, you can install a GoShelf.
GoShelf: Your White Shower Shelf Solution
If you're looking for a white shower shelf for your modern or marble shower stall, GoShelf is the perfect solution. Take a look at our easy installation instructions and see how this stylish shelf is also an ideal DIY project. Then, take advantage of our limited-time offer of free shipping when you buy three or more shelves by ordering yours today!