simplehuman Corner Shower Caddy Alternative is Sturdy & Seamless
It's tough to find the perfect shower storage solution with so many options out there. And once you pick one, it's frustrating to spend hard-earned money on something you're not in love with. If you're thinking about purchasing the simplehuman corner shower caddy, consider our alternative invented by a small business owner – GoShelf!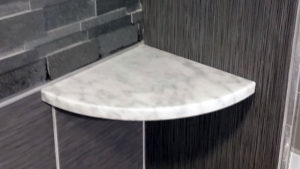 See our varieties and order online!
There are three major categories of problems people seem to experience with other shower caddies: quality of construction, storage capacity, and durability. Read on to see how GoShelf outperforms other shower shelves in all three categories!
Quality of Construction
Other Shower Caddies: Flimsy Construction
Among online reviews of other shower caddies, there are complaints about unstable construction, poor design, and flimsy quality.
"I have purchased *shower caddy* before, and this fell short of expectations. it is unsteady, feels like it will tip over with a bump. def. not worth the money."
GoShelf: Durable Materials and Secure Installation
Our shelves are made of solid stone, so there's no chance that your shelf will feel flimsy. And our easy-to-follow installation instructions will ensure your shelf is anchored securely into the wall.
Storage Capacity
Other Shower Caddies: Limited Storage
Some customers expressed dissatisfaction with storage, with items falling through the wiring shelving. The caddy also sat at an angle causing toiletries to slide off the shelves and onto the tub floor.
"It leans forward in the shower regardless of foot adjustments. It isn't hangable or securable at any location for its intended use. Small, medium and large bottles of various weights topple. The razor falls out. The loofah falls off."
GoShelf: Heavy-duty Shelving
With a secure installation using anchoring plates and heavy-duty adhesive, the GoShelf will stay level and can hold up to 200 lbs – that's a lot of shampoo!
Durability
Other Shower Caddies: Break Easily
Other shower caddies are made of a metal that isn't designed to withstand daily water exposure. As this customer explains, his caddy rusted in only six months!
"Nice product that works well; however, it rusted after 6 months of normal use in the shower. I would not recommend!"
GoShelf: Stand the Test of Time
Because GoShelf is made of durable stone, it will never rust or become weaker over time. And, because of our installation process, you can trust that your GoShelf will be there for years to come.
GoShelf Outperforms Other Shower Caddies
With its beautiful design and sturdy construction, GoShelf is the smart choice for your shower storage. Skip the rust, the breaks, and the headaches of other shower caddies and order your GoShelf today!