GoShelf Comes in Silver! Corner Shelf Perfect for Tile Showers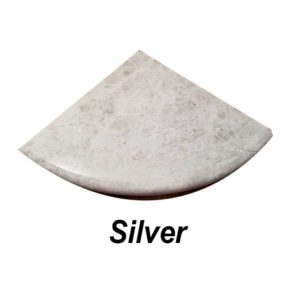 Industrial, contemporary or transitional, nearly any interior design style can benefit from metallic accents. With GoShelf, we offer a beautiful silver corner shelf that accentuates the beauty of your bathroom. It's an ideal way to add something stylish and bright to your shower or bath while gaining some functionality as well.
The GoShelf Difference
Our shelves have three distinct features that set them apart from the rest: our quality, our style, and our easy installation.
Quality
All 11 varieties of GoShelf are made of high-quality stone, which means you can count on your shelf to last. And, we provide high-quality adhesives and tools to make your installation simple. Best of all, our shelf was designed by an experienced tile contractor, who understand the ins and outs of bathroom tile and shelf installation. From material selection to design, installation to durability, we've thought of it all. When you choose GoShelf for your silver corner shelf, you can expect superior quality.
Style
Our durable shelves aren't just built to last; they're built to look great for years to come. With these 11 gorgeous styles, we have something for everyone:
White
Carrara White
Botticino
Durango Beige
Emperador
Cappuccino
Dark Gray
Light Gray
Silver
Absolute Black
Atlantic
Easy Installation
Regardless of whether you order our 7, 8, or 9-inch shelf, the GoShelf is simple to install! Tile contractors and DIYers alike love our straightforward installation method.
Use the included handheld grout saw to get rid of the existing grout
Coat your anchoring plates in the provided adhesive
Place adhesive into the channels of your silver corner shelf. Then, insert the shelf onto anchoring plates already placed in your wall
Allow the adhesive dry. Then, use grout or caulk to create a watertight seal for your shelf
Order Your Silver Corner Shelf from GoShelf
If you're looking for a gorgeous new shower shelf, order yours from GoShelf today. If you aren't sure if you'd like a silver corner shelf or a different style, we ship samples to take the guesswork out of your design. Don't forget to use our code 'FREESHIP' to get free shipping on your GoShelf purchase.