Install Our Porcelain Corner Shower Shelf Yourself – GoShelf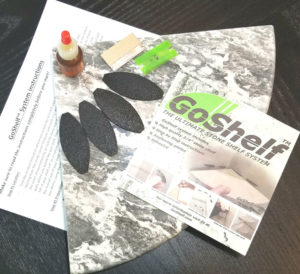 The average American showers more than 300 times a year. With that much time spent in the bathroom, it just makes sense to make it a space that works for you. If you're looking for a way to make your shower a more stylish and practical space, all while sticking to a budget, try our porcelain corner shower shelf!
A Durable Design
Our GoShelf adhesive is designed to withstand humidity and saturation without compromising any structural integrity. And, of course, our porcelain corner shower shelf is durable and will never rust like a metal shelf or warp like a plastic shelf.
A Beautiful Bathroom Addition
Do you need extra space for your toiletries? Maybe just an easier way to shave your legs? Adding a GoShelf in one of our 12 beautiful varieties is a great way to make your bath or shower more organized and lovelier than ever before.
• Absolute Black
• White
• Carrara White
• Botticino
• Durango Beige
• Emperador
• Cappuccino
• Dark Gray
• Light Gray
• Silver
• Atlantic
• Caramel (our latest addition!)
Installation Options
GoShelf is available in three sizes (7, 8 and 9-inches) and can be installed on grouted or non-grouted tiled walls. Our shelves are a favorite among tile contractors and an easy way for homeowners to stretch their DIY muscles. In fact, you can install your own porcelain corner shower shelf in a little as six steps.
1. Pick the spot where you'd like to install your shelf.
2. Use the grout saw and remove the grout where you'll place your anchoring plates.
3. Cover half of each anchoring plate (top and bottom) with the included glue. Place the plates into the grout holes.
4. Use the remaining adhesive to fill the channels of your GoShelf, being careful not to overfill the channels.
5. Place your GoShelf onto the anchoring plates, ensure a snug fit.
6. Run a bead of caulk around the area where the wall and shelf meet to make an even more watertight seal.
Order Your Porcelain Corner Shower Shelf Today!
Add some beauty and practicality to your shower space today with a GoShelf or two! And, take advantage of free shipping when you order three or more.