Corner Bathroom Storage Made Easy: Introducing the GoShelf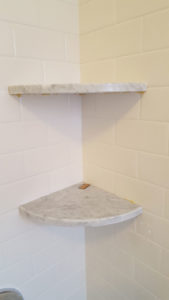 Are you ready to organize your bathroom once and for all? Rather than relying on temporary solutions like suction cup shelving or hanging caddies, invest in a durable and permanent corner bathroom storage solution. The GoShelf is a gorgeous and thoughtfully designed stone shelf system that you install yourself. Want to learn more? Read on to meet your shower's new best friend.
Introducing the GoShelf
The GoShelf is a shelving system that's easy to install and easy on the eyes. It was invented by Ian Stefenack, a tile contractor whose decades of experience in bathroom remodels prompted him to find a better way to install shower shelving. Once he developed GoShelf, he knew it'd be an asset to contractors and homeowners alike.
A Corner Bathroom Storage Solution with Style and Substance
The GoShelf comes in 11 different styles, so you can find something to suit any bathroom. In addition to the different styles, shelves are available in three sizes (7, 8 and 9-inch) so you can make sure you have plenty of room for all of your toiletries. But, GoShelf isn't just a pretty shelf, it's functional too! A GoShelf can hold up to 200 lbs, making it a safe place to stash all your shampoo (and then some!) or use as a leg shaving shelf.

How to Install Your GoShelf

Installing your GoShelf is simple and is a great DIY project for a weekend afternoon. Here's how it works:
Choose the location where you would like to place your GoShelf.
Use the provided grout saw to remove the grout at the area where you'd like to install your shelf. (Safety first: wear a dust mask!)
Cover half of the anchoring plate (top and bottom) with the provided adhesive. Repeat for all anchoring plates. Then, push the plates into the holes you cut.
Use the remaining adhesive to fill the channels of your GoShelf. Be careful not to overfill the channels
Insert your new GoShelf onto the anchoring plates. Make sure it fits securely.
To ensure a watertight seal, run a bead of caulk around the area where the shelf meets the wall.
Wait 24 hours before use.
GoShelf: Your Corner Bathroom Storage Solution

GoShelf is great for shower stalls, bathtubs or any corner of your bathroom (note: if you aren't placing your shelf at a grout line in your tile, check out our advanced method). If you'd like to get your shower organized, order yours today!