Better Than a Recessed Shower Niche: The GoShelf System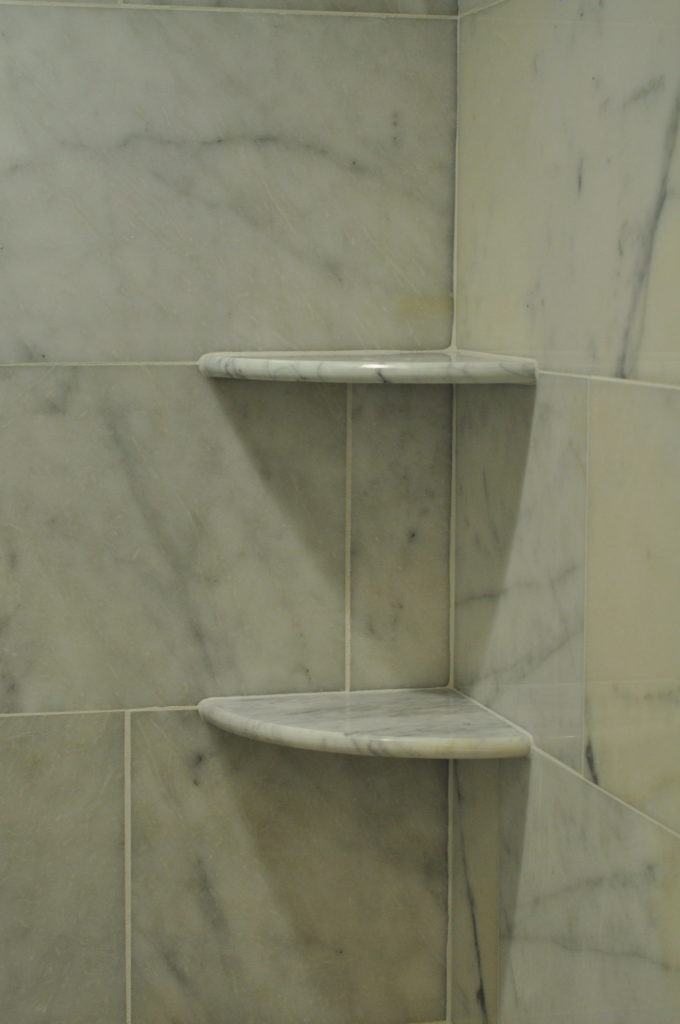 There are as many ways to organize a shower as there are products to use while you're in the shower. However, if you're looking for something long-lasting, attractive, and practical, only a few options really stand out: a recessed shower niche, a GoShelf system, or a glued-on ceramic shelf.

Only one of these options is easy to install, affordable, and long-lasting. We'll evaluate each below—so you can make the best decision for your aesthetic and budget.
Glue-on ceramic shelf
Unfortunately, the glue from these shelves can damage the glaze on your tile upon removal. This means it's difficult to change the position of your shelf, remove your shelf, or make room for another shelf without causing harm to your shower.

In addition, the glue in ceramic shelves often doesn't provide much support. Placing heavy items on a ceramic shelf could cause it to fall mid-shower. Corner bath shelves by GoShelf, on the other hand, might be just what you need.
Recessed shower niche
There are a few reasons we don't recommend recessed shower niches. These include:


The expense: Niches can cost upwards of $500, ranging into the thousands for custom and specialty niches.
The aesthetic: While recessed shower niches are trendy now, they may be dated in a few years. It will be expensive and cumbersome to change your shower if you decide you don't want a shower niche.
Your family's changing needs: Today, you may need one small niche. Tomorrow, you may need a larger niche, two separate niches, or no niche. Again, it's difficult and expensive to change a recessed shower niche once it's installed.
The GoShelf system
Unlike a recessed shower niche, a GoShelf can be installed quickly and affordably. A GoShelf won't leave marks behind like a ceramic shelf, and it can hold up to 200 pounds—which means you can even install a shelf to place your foot on while you shave.
It can also be changed on a whim. Want an extra shelf for a wine glass? Go for it. Need to move your shelf for a better angle? Do it. Change your mind about a shower shelf? Remove it and re-grout.

The GoShelf system is better than a recessed shower niche or a DIY ceramic shower shelf. Contact us today to get started with your GoShelf system and organize your shower for your needs!