Is there an adhesive that will hold up a stone shower shelf?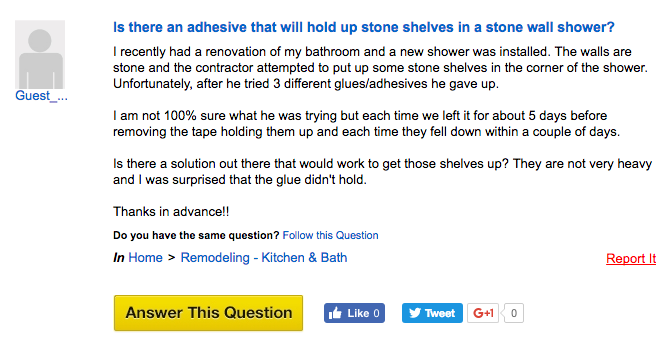 There's a lot of DIY advice on the internet. Homeowners and contractors turn to Angie's List in particular for tips and pointers on how to go about remodeling or general improvement contracts.
We recently stumbled upon a question Angie's List that we actually see a lot: how can I adhere a stone shower shelf to already installed shower tiles? Is there an adhesive strong enough?
If you peruse the answers, the short answer is no, you can't just glue a stone shower shelf to tile and hope it sticks. The good news is that there's an easy way around this problem—the GoShelf installs quickly, easily and securely without any visible means of support and without drilling rods into the wall.
So here's our reply to Guest_9243713, who asked: Is there an adhesive that will hold up stone shelves in a stone wall shower?
Hi Guest_9243713, we can help!
If we understand the question correctly, you are looking to glue a stone shelf on top of existing tile. Unfortunately, we don't know of any glue or epoxy strong enough to hold a stone shelf to a wall without supports. As ContractorDon points out, you will have leverage working against you. However, we do know of a stone shower shelf that can be easily installed on a shower wall that has already been tiled. 
The GoShelf is a stone, corner shelf for your shower. It is designed specifically to be installed on a wall that has already been tiled with a combination of glue and wall anchor plates. You could get a contractor to do it, but the job is definitely easy enough to DIY—we send a kit with a hand-held grout saw that you use to remove a small amount of grout. 
Here's how it works: add a small amount of glue to the half of the anchoring plate that will be inserted into the wall. Then slide the anchors into the channels you've made in the wall. Then you add glue to the channels of the shelf, where the anchors will be inserted. Align the anchoring plates with the shelves channels and slide the shelf into place. And that's it!
This system allows you to install a shelf on top of tile without possibly damaging your shower. You don't need to remove, cut, or sand any tiles. By not making cuts to your walls, you avoid potential problem areas in which water can seep behind the tiles and cause mold. The shelf is pretty sturdy too, it holds up to 200 lbs, not that you'd need that for the shower!
Good luck, Guest_9243713, and if you need anything feel free to contact us or go ahead and order your GoShelf here.