GoShelf: Porcelain Bath Shelf in 12 Beautiful Stone Varieties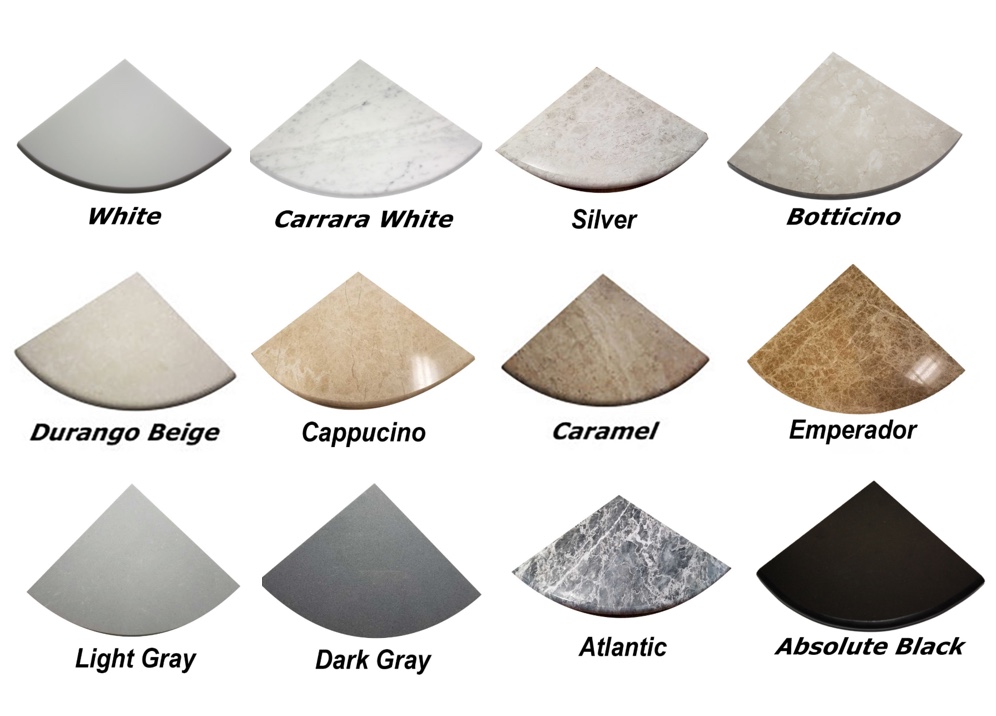 With a dozen choices, we're sure that you can find the perfect porcelain bath shelf for your shower or bathtub. And, no matter which style you choose, you can rest assured that it will be designed to stand the test of time and be easy to install. We've broken down our 12 styles into three sections, Basics, Warm Tones, and Grays.
Basics
White
A clean and classic palette for any bathroom and a natural choice against subway tile.
Carrara White
A touch more sophistication, the lovely light gray veining throughout this marble will make it stand out in your shower.
Absolute Black
A staple for ultra-modern or Victorian baths, a black porcelain bath shelf will definitely make a statement.
Warm Tones
Botticino
If you're looking for a soft beige with only slight marble feathering, Botticino is the choice for you. It's subtle and warm without being too dark.
Durango Beige
Another great neutral shelf, the Durango Beige is the warm-hued version of our Carrara White. Sophisticated and delicate looking, while sturdy enough to hold 200 lbs.
Cappuccino
Yellow undertones and delicate white veining run throughout this stone, making it a versatile piece. This shelf would be right at home in a white or brown-tiled shower.
Caramel
This warm marble is perfect for a homeowner looking for a warm-hued shelf featuring banded veining. Highly textured, this stone will surely be a statement piece in your shower.
Emperador
If you're looking for something straight out of a Spanish Villa, you can't go wrong with Emperador. It's incredibly rich and will remind you of beautifully aged leather.
Grays
Light Gray
Ideal in a modern home, the matte light gray stone will blend right in to any minimalist design.
Dark Gray
Also great for a space with a modern twist is our Dark Gray porcelain shower shelf, which will stand out and stand up to years of use.
Atlantic
Our Atlantic shelf has a beautiful dark gray base with blue undertones. But, what we think sets it apart it the deep veining and brackish striations throughout the stone.
Silver
This shelf gets its name not from its base color which is really more of a white, but from its veining with is a shimmery and subtle silver feathering.
Whichever style you choose, order yours today!