Easily Install a Beautiful White Marble Shower Shelf – GoShelf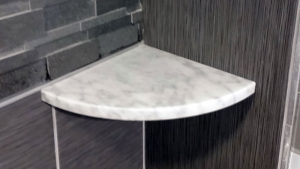 Are you tired of having to rearrange toiletries each time you shower because you're short on space? This is a commonly faced issue which many households try to solve with a shower caddy. While a caddy can do an acceptable job of storing your shower products, it's by no means the best or the most visually appealing option. A white marble shower shelf from GoShelf is the superior solution in terms of both appearance and functionality. Keep reading to find out why!
How to Easily Install a Beautiful White Marble Shower Shelf
When it comes to supplementary shower storage, everyone wants a product that is simple to set up. Apart from this, most homeowners also desire a solution that looks just as great as it works. While shower caddies tend to be clunky rust magnets, a sleek corner shower shelf from GoShelf will appear as if it was custom made for your shower. And yes – these shelves are incredibly easy to install, too!
Allow us to walk you through the hassle-free process of putting up a GoShelf:
Step 1 – Grab a tape measure and a pencil to mark the four spots where you will need to remove grout to install the GoShelf wall anchoring plates
Step 2 – Use the hand-held grout saw that comes with the kit to cut holes for the plates
Step 3 – Place a small amount of glue on each anchoring plate and insert them into the wall
Step 4 – Add glue to the GoShelf channel and slide it into place, being sure to wipe away any excess glue
And that's all there is to it! Completing these steps should take you no more than a few minutes, whether this is your first DIY project or your hundredth. (Note: Once you're done, we recommend waiting 2-3 hours before using your GoShelf to allow the glue to dry completely.)
Which Stunning GoShelf Style Will You Choose?
Considering how simple it is to add beautiful shelving to any shower with this system, it's no wonder why GoShelf is the go-to shower storage solution among homeowners across the U.S. Not to mention the many style options we have to choose from! Perhaps you'll select a timeless white marble shower shelf, or maybe you'll go for a style that's more of a standout, like Emperador.
No matter what your design tastes may be, we've got a GoShelf style you'll fall in love with! To begin browsing, head over to our website now.