The Best Shower Toiletries Holder in Any Color – Go Shelf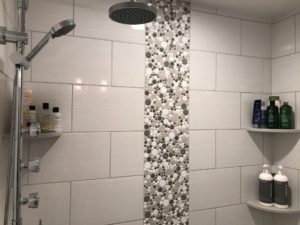 Let's face it: Figuring out a shower storage system that works well for everyone in your household can be tough. Of course, you want something that's large enough to hold everyone's essential shower products in an orderly fashion. At the same time, your shower organizer needs to be streamlined so that it doesn't take up too much space or get in your way. Enter the GoShelf system, the premier solution for those in search of an attractive and highly functional shower toiletries holder.
Finding the Best Shower Toiletries Holder for Your Needs & Style
Ready to optimize your shower storage situation with gorgeous in-shower shelving? Here's how to create the perfect GoShelf system for your purposes:
Choose your favorite GoShelf style – To get started, browse our selection of GoShelf products and pick a few colors that appeal to you. It's easy to request samples if you'd like to compare different styles and see how they will look in your shower!
Decide how many shelves you need – Will a single GoShelf meet your storage needs, or do you require a shower toiletries holder with multi-level shelving? Choose the configuration that is right for your family. Then, take some measurements to see which GoShelf size will suit your shower best. The standard GoShelf is 9", but our corner shower shelves are also available in custom sizes (7" and 8").
Order & install your shelving – Once you've decided on the right GoShelf setup, it's time to place your order on our user-friendly website. When you receive your shower shelves and are ready for installation, follow our simple four-step process to get the job done in just a few minutes. You might also want to reference our helpful video tutorial as you put up your shower shelving.
As you can see, purchasing and installing stunning shower shelves from GoShelf is as simple as 1-2-3!
Find Your New Favorite Shower Toiletries Holder Online from GoShelf
Thanks to the revolutionary GoShelf design, keeping all your bath products tidy and within arm's reach is easier than ever! To start shopping for a sturdy shower shelving system that looks like it was custom made for your shower, click over to our website now.