GoShelf Permanent Shower Shelves Are Easy to Install Yourself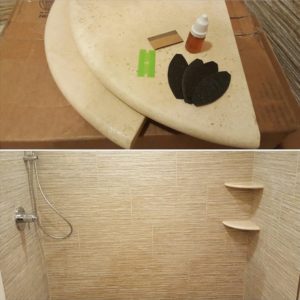 Once upon a time, installing shelving in an under-construction or already tiled shower was a complicated job, even for the most experienced contractors. But now, thanks to the invention of GoShelf permanent shower shelves, adding extra storage to any shower is a breeze!
GoShelf Permanent Shower Shelves Are Easy to Install Yourself
Some homeowners decide they'd like to add shelving when planning their shower design. Others don't encounter the need for supplemental shower storage until later down the line. Either way, GoShelf permanent shower shelves make for a no-hassle DIY project. After all, these stone corner shower shelves are extraordinarily simple to install – at any point in shower construction or renovation.
To demonstrate just how easy it is, here's a quote from a Delaware tile contractor named Luis:
"The GoShelf system really takes the headaches out of this type of project. You simply remove a small amount of grout, add the mounting plates, install the shelf and then grout/caulk it in. It's that simple! I would never think of doing this type of project again without the GoShelf system!"
As you can see, GoShelf is the shower storage system contractors prefer. But you don't have to be a professional in order to install these shelves! Everything you need for the project comes with the GoShelf kit, and you can find highly detailed instructions on our website. All in all, the installation should only take a few minutes to complete – even if you're a DIY home improvement newbie.
Don't Settle for an Unattractive Shower Caddy – Get Yourself a GoShelf!
When seeking out shower storage solutions, many homeowners assume that a shower caddy is their best option. But little do they know, the GoShelf steals the show in terms of both appearance and functionality! As compared to a traditional shower caddy, the GoShelf keeps your products much more organized, all without attracting rust or shifting around. Plus, these permanent shower shelves look seriously sleek – as if they were part of the shower all along.
Ready to majorly improve your shower in just a few simple steps? It's time to choose the GoShelf you like best! These dependable shelves come in a wide variety of styles, including:
Light Gray
Sparkle White
Granite
Absolute Black
Cappuccino
Durango Beige
And Many More!
To find the shelf that best suits your shower, click over to our website now!