DIY Shower Caddy That Sticks to Tile in Any Shower – GoShelf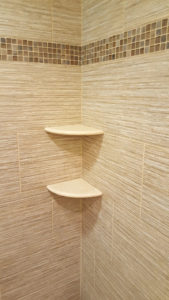 Unless you are lucky enough to have a shower with built-in shelves that can fit toiletries for the whole family, you will likely need to add a supplementary shower storage system. A traditional shower caddy that hangs over the shower head is one option. However, conventional caddies tend to attract rust and to slip and slide around. A revolutionary shower caddy that sticks to tile and doesn't budge, damage the shower or collect rust, the GoShelf shower shelf is a solution that works like a charm in any bathroom.
DIY Shower Caddy That Sticks to Tile: Installing a GoShelf
One of the best things about the GoShelf is that you don't need to be a professional contractor in order to add one to your shower. In fact, installing this shower caddy that sticks to tile is a simple DIY job that takes just a few minutes. Here's how to complete the project in four easy-to-follow steps:
Choose the corner where you would like your GoShelf to "float." Place the shelf at your desired height and mark the four spots where you will create holes for the wall anchoring plates.
Use the handheld grout saw included with your GoShelf kit to remove grout in the marked areas. The anchoring plates should go about halfway into the wall.
Next, apply a small amount of glue to each anchoring plate and insert them into the wall. Then, put some adhesive on the GoShelf channel and slide it into place. Be sure to wipe away any excess glue.
Congratulations – your work here is done! Now, just wait 1-3 hours for the glue to dry completely before placing shower products on the shelf.
For additional guidance on how to put up a GoShelf yourself, head over to our website and check out our instructional video.
Choose from 16 Different GoShelf Styles
Looking for a versatile and refined shower caddy that sticks to tile in showers of all sorts? You've come to the right place! Whether your shower walls are made of granite, marble or some other type of stone, we have a GoShelf that will suit it perfectly. If you're eager to have a more organized shower, start shopping our selection of gorgeous and sturdy stone shower shelves today!