The Ultimate Marble Corner Shower Shelf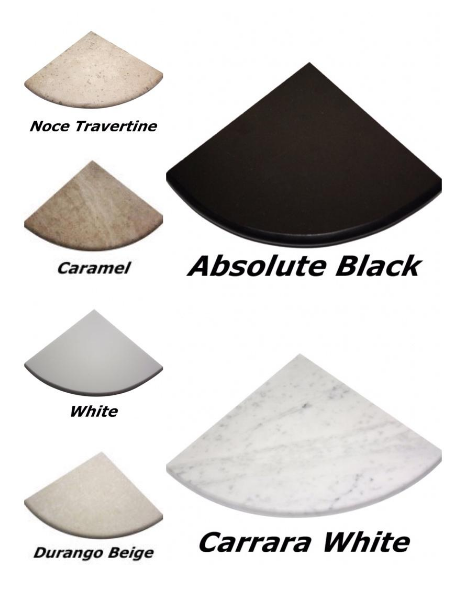 The GoShelf is by far the easiest and most do-it-yourself friendly marble corner shower shelf installation system available today!
Marble Corner Shower Shelf
The GoShelf system is a marble corner shower shelf that easily installs in just minutes. It's made from high quality natural marble, travertine and granite. Our beautiful marble shower corner shelf comes in seven different colors/stone types: Absolute Black, Botticino, Caramel, Carrara White, Durango Beige, Noce Travertine, White. We have a finish to coordinate with just about every shower! You can request samples if you aren't sure which color will work best with your shower tile. This is a great option for those unsure of what color they would like their GoShelf to be.
Simple and Easy Installation
Creator Ian Stefenack designed this corner shower shelf system with one thing in mind: a simple and easy installation. The GoShelf's straightforward installation make it the ideal home improvement project for any of you DIY Weekend Warriors out there! The GoShelf system allows you to install a marble corner shower shelf in just four simple steps:
Remove the grout with the hand-held grout saw include with the kit

Glue and insert the anchoring plates

Add glue to the GoShelf and slide the shelf onto the anchoring plates

Finish with a fresh coat of grout around the shelf, and you're done!
Strong, Durable, and Versatile
With the GoShelf, you have the easy installation of a flat back shelf with the strength and stability of a built-in shelf. The result is a strong and sturdy shelf that will stay in place no matter how many giant shampoo bottles you stack on it. In fact, this shelf can hold over 200 lbs! Our GoShelf makes a beautiful leg-shaving shelf for the shower.
You can add a marble corner shower shelf anytime because of the GoShelf's design. The GoShelf is one of the few marble corner shower shelves on the market that can be installed on top of existing tile. That means you can add a corner shower shelf at any time without needing to hire a contractor!
This system also allows you to install a stone corner shower shelf without running the risk of damaging your shower. Really, you won't need to remove, cut, or sand any tiles. Without these invasive cuts to your walls, you avoid potential problem areas in which water can seep behind the tiles and cause mold, leaks and more.
Seeing is believing, so check out just how quick and easy it is to install the GoShelf! Once you GoShelf, you don't go back!