Storage in Shower Ideas: Shelves, Shaving Pedestals & More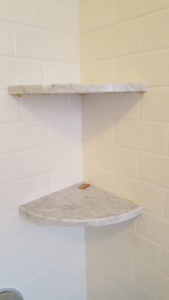 Without plentiful storage space for your everyday bath and body products, shower time can be stressful. After all, no one wants the hassle of taking their toiletries in & out every time they shower! While a shower caddy can help remedy a lack of storage space, this is by no means the most aesthetically appealing or functional product for the job. A far more versatile and polished solution, the GoShelf corner shower shelf can be used to bring a broad range of storage in shower ideas to life. Let's explore a few possibilities!
Storage in Shower Ideas: Shelves, Shaving Pedestals & More
No matter what size and style your shower is, it's simple to create supplemental storage that fulfills all your needs and desires using the GoShelf system. Here are just a few ways to use these sturdy, attractive ceramic shower shelves:
Custom Shelving – The beauty of the GoShelf system is that it's completely customizable. Whether you need just a bit of extra space, or your shower could benefit from a whole set of stacked shelves, your goals will be simple to achieve! Installing a GoShelf requires only a few tools, all of which are included with the kit. Plus, there's no tile removal involved, as the GoShelf gets anchored right into the grout.
Shaving Pedestal – When placed at a lower elevation in the shower, the GoShelf becomes a handy spot to place your foot while shaving. Not only is this convenient; it also reduces the chance of slips in the shower.
Optimized Niche Storage – There's no doubt that a recessed niche is a wonderful thing to have in your shower. But if the niche is too tall or overly deep, it may not function optimally. Luckily, adding a GoShelf to your niche can fix this issue by creating multiple levels of storage!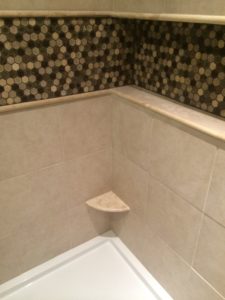 We hope you've enjoyed this introductory list of storage in shower ideas you might incorporate into your bathroom with the revolutionary GoShelf system. Ultimately, the options are virtually endless since the GoShelf can be placed in any corner, at any height in your tiled shower!
Find the Perfect GoShelf for Your Purposes
Not only can the GoShelf accommodate any shower storage need – it can also mesh with any shower design! With 14 different styles to choose from, there's surely a GoShelf variety which will coordinate perfectly with your shower scheme. To browse the selection and request samples of your favorite styles, go to our website now!