Shower Tile: Insert Shelf into Tile Grout DIY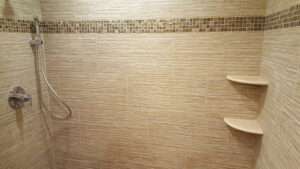 Tired of running out of room to keep your toiletries organized in the shower? Built-in shelving will solve your shower storage woes efficiently and reliably – with the added bonus of providing a professional, finished look. But fear not – you definitely don't need to be a professional in order to equip your shower with sleek & stunning shelving! Thanks to the revolutionary GoShelf, a shower tile insert shelf which gets installed right into the grout, this job is totally DIY-able. Read on to learn about how it works!
Adding a GoShelf to Shower Tile: Insert Shelf in 4 Easy Steps!
Some shower shelves require you to remove the tile on the shower walls before installation – a step which can get quite complicated. Aiming to save homeowners this hassle, the creator of GoShelf masterfully designed a shower tile insert shelf that can be easily added to existing tiled walls. Here's the basic process:
Measuring & Marking – Use a pencil & tape measure (or ruler) to mark the four points where you'll create small holes in the tile grout for the GoShelf anchoring plates
Grout Removal – Using the handheld grout saw included in the GoShelf kit, make the four holes
Anchoring Plate Installation – Add adhesive to the wall anchoring plates one by one, and insert them into the wall so they protrude about halfway
Channel Installation & Finishing Touches – Slide the GoShelf channel into place & wipe away any excess glue
Once you've completed these four simple steps, we recommend waiting 2-3 hours before placing anything on your GoShelf corner shower shelf, to ensure the adhesive has fully dried. After this, you'll be good to go!
Praise for the GoShelf System, from a Tile Specialist
As we've hopefully proven, installing a GoShelf is a job that virtually any DIYer can do. But don't just take our word for it – check out this testimonial from tile contractor Steve K.:
This system is great! As a tile contractor, my customers always want me to install a few stone corner shelves (typically 3-4) on their tub/shower walls. Before using the GoShelf system, it would take me at least 10-15 minutes per shelf, cutting the tiles to fit perfect around each one.

The GoShelf system makes this much easier. Now, I tile all the walls completely and grout (FYI – it's so nice to grout without the shelves in your way!), and then I install the shelves last using the GoShelf system. No need to cut the tiles perfectly because the shelf just slides right into place. It's absolutely amazing how much faster it is to do it this way!
DIY Your Shower Storage with GoShelf
Eager to have efficient, stylish shelving in your bathroom? It's simple and rewarding to do it yourself with GoShelf! Head over to our website now to browse our broad selection of shelf styles.