Stick On Shower Shelf Alternative: The GoShelf Solution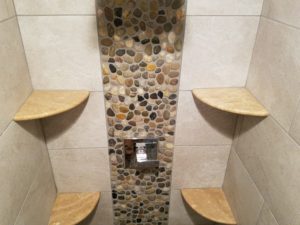 Unless you're lucky enough to have a spacious built-in shower niche, you'll likely need to add supplemental storage to your shower – especially if it's used by multiple members of your household. While an over-the-showerhead caddy or a stick on shower shelf may be passable for short-term storage, these products are not without their cons.
Over time, a metal caddy will inevitably collect rust and shift around, and suction-on storage will eventually lose its grip. If you'd rather save yourself frustration and invest in a true solution that will stand the test of time, look no further than the GoShelf.
Why GoShelf Excels as a Stick On Shower Shelf Alternative
There are a number of reasons why the GoShelf system is superior to other available stick on shower shelf products. A ceramic shelf which can be installed right on top of the tile, in any corner of the shower, the GoShelf channel is mounted to the wall with anchoring plates and strong adhesive. This makes it a permanent, sturdy solution which won't budge, no matter what!
Beyond its impressive functionality, a GoShelf is also much more polished looking than your average shower shelf. It's easy to blend this shelving into any shower scheme, given that it comes in 11 elegant stone styles. Just a few options include:
Cappuccino
Sparkle White
Dark Gray
Durango Beige
Absolute Black
How Easy Is It To Install a GoShelf?
While some corner shower shelves can be a hassle to put up, the installation process for a GoShelf is totally straightforward and stress free. Involving just four simple steps and a few tools, GoShelf installation can be easily completed in a few hours. For proof, check out this review from Rich B.:
I purchased two 8" shelves for a bathroom remodel/refurbish for the bathtub area and placed one on each side of the back wall.

They went in just as the installation instructions and demo videos said: EASY. I used a bit too much glue, but just kept looking back and cleaned as I saw the drips. Eventually had to use the included razor blade, and it cleaned right up on my flat tile.

They look fantastic! Now I'm back for two more for a shower. I highly recommend GoShelf!! BTW, I'm not a contractor/pro, just a DIY homeowner. So if I can do it, so can you…
Get Your GoShelf Today!
Eager to see for yourself why GoShelf gets so much praise from homeowners across the nation? Click over to our website to pick out your favorite styles and order samples for your bathroom!