How to Add a Shelf to a Shower Niche with GoShelf
Recessed shower niches are great until you have one that's too tall to be functional without much shelf space. Thankfully, there's a way to get more shelving in your shower niche with the GoShelf. Let's look at how to add a shelf to a shower niche using GoShelf's revolutionary, DIY corner shower shelf kit.
Add A Shelf to A Shower Niche That's Already Tiled
The first thing you should know is that the GoShelf is designed to be installed on a shower or shower niche that has already been tiled. This is great news for homeowners or contractors that don't want to rip out existing tile and would rather retrofit a tile to the shower space.
GoShelf comes in a variety of colors for easy matching to your current shower tile, and it's designed to look like it's floating seamlessly on your shower wall—with no visible means of support. It's an elegant and durable solution to a common problem.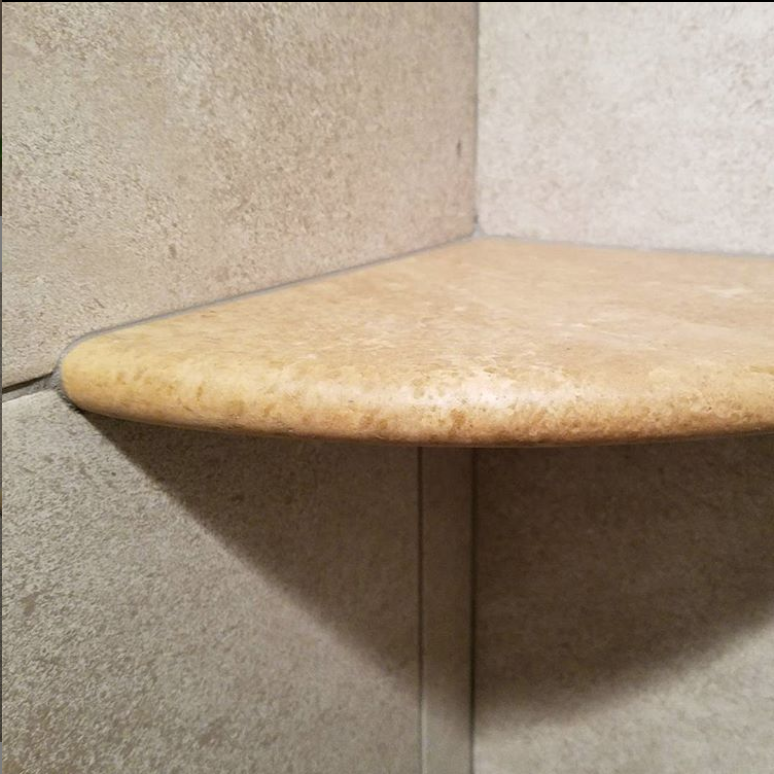 How to Add GoShelf Shelf To A Shower Niche
The fastest way to get an idea of the installation process for GoShelf is to watch our installation video. This will give you the step-by-step visual of how easy it is to install.
Here's the gist of the simple installation process:
In your shower niche, locate the corner and level at which you would like to install your GoShelf. Using a tape measurer and a pencil, mark the four spots where you will need to remove the grout.
Using either a hand grout saw or an oscillating power tool, begin removing the grout where you made the pencil marks. Check often with the anchoring plates to make sure you don't remove too much grout—the plates should stick halfway out of the wall.
Apply the adhesive to the anchoring plates and insert into the wall. Apply adhesive to the channel on the GoShelf and slide onto the anchoring plates.
Wipe any excess glue from the wall and allow to dry for 2-3 hours. Add a matching grout or caulking around the edge of the tile.
Browse Our Selection and Get Your GoShelf!
It's easy to get GoShelf-ing. Take a look at our inventory and pick a few colors that you think might be closest to your tile color. Order samples to double check that you have the right match. Then, order the full installation kit and either DIY or have an experienced contractor do the install for you!