Easy DIY Floating Shelf for Shower: GoShelf System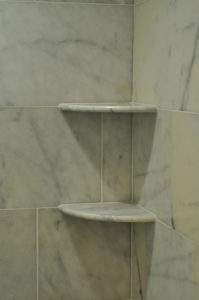 Need more space to store your hair and body care products in the shower? A standard shower caddy may work fine as a temporary fix. But if you're looking for a true solution that will withstand the test of time, wall-mounted shelving is the way to go. A fabulous floating shelf for shower walls that are already tiled, the GoShelf is the ultimate product for those seeking additional shower storage that looks seamless, performs reliably and doesn't require any installation headaches. Let's explore the perks of this revolutionary system!
Best Floating Shelf for Shower: Why Choose the GoShelf System?
Sturdy by Design – The GoShelf is mounted using strong adhesive and wall anchoring plates, meaning there's absolutely no need to worry about it sliding around or falling down. Indeed, this impressive bathroom corner shower shelf can hold up to 200 pounds without budging!
Suitable for Any Shower – Whether you're looking to add storage to a compact or spacious shower, GoShelf will work like a charm. Keep it simple with a single floating shelf for the shower corner, or create an organization oasis with multiple shelves in a customized layout!
Simple to Install – Putting up a GoShelf requires only four steps and a few tools, making it well within the reach of virtually any homeowner willing to take on a basic DIY project. Visit our website to find all the information you need to successfully install one of these stunning shelves in your tiled shower.
Select GoShelf, Enjoy Incredible Results!
Considering the advantages listed above, it's no wonder that GoShelf is the leading floating shelf for shower storage needs of all sorts. Don't just take our word for it, though… Check out the review Laura B. left for us after upgrading her shower with a personalized GoShelf system:
"I just installed three shelves in my tiled shower and am so pleased with the results! My only tile experience is installing small backsplashes, but I was able to do these without a problem."
Eager to revamp your shower situation with GoShelf? Head over to our website to see the broad range of available styles and find the ideal floating shelf for your shower!