Ceramic Corner Shower Caddy Shelf: The GoShelf System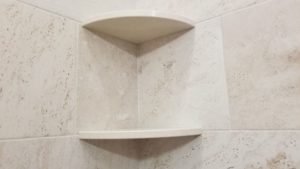 Searching for a shower storage solution that will meet your needs and stand the test of time? While a conventional shower caddy is likely to leave you disappointed, a ceramic corner shower caddy from GoShelf will add both dependable storage and attractive flair to your shower. Unlike those products that hang over the shower head or suction to the wall, these revolutionary stone shower shelves will never rust or come out of place. Read on to learn more about the GoShelf system and how it delivers lasting security and beauty.
Ceramic Corner Shower Caddy Shelf: The GoShelf System
The GoShelf system is made to fit your unique shower storage needs. Here's the process for designing and installing your personalized ceramic corner shower caddy using these state-of-the-art shelves:
Determine your desired configuration – First things first, you'll need to decide where to put shelves in your shower. Depending on how large your shower is and how many household members use it, you might choose a single shelf, a shelf for each corner or stacked shelving. The design possibilities are endless!
Choose your ideal GoShelf style – When you go with the GoShelf system, it's simple to create a ceramic corner shower caddy that looks like it was custom made for your shower. That's because we offer a wide range of stone colors and styles! Browse our website to find the best match for your shower.
Complete the installation – Once your GoShelf system arrives, it only takes a few tools and four simple steps to install it. You can find detailed installation instructions along with a how-to video on our website.
Ready to Be Blown Away? Order Your GoShelf Today!
Available in many styles to suit any shower, the GoShelf is a true shower storage solution which you can count on to hold products for the entire household – in a neat and aesthetically pleasing manner. Just in case you're doubtful about how easy it is to hang a GoShelf, check out this review from Laura B.:
"I just installed three shelves in my tiled shower and am so pleased with the results! My only tile experience is installing small backsplashes, but I was able to do these without a problem."
Ready to start shopping for the ultimate shower storage system? Click over to our online store to view the many different GoShelf options and request samples of your favorites!