GoShelf Makes the Best Soap Shower Holder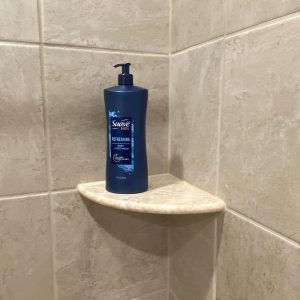 While it may not seem like a huge deal, your soap dish and space for other toiletries can actually make or break your shower. If you choose a soap shower holder that slides around or collects gunk, you'll only be creating unnecessary work for yourself. To avoid these frustrations and realize an actual solution, get yourself a GoShelf!
GoShelf Makes the Best Soap Shower Holder
To deliver the best-performing shower storage product possible, the inventor of GoShelf created a snug-fitting corner shelf that gets installed into the grout between shower wall tiles. This way, users of this product will enjoy:
Added storage space with no need to remove or risk damaging existing wall tile
Dependable shelving that stays firmly in place
Simple installation, with just a few tools required
A sleek, professional look that elevates the shower design
Whether you're looking for a good spot to store a good old-fashioned bar of soap, a bottle of body wash or an assortment of everyday toiletries, GoShelf is your answer! You can find a step-by-step breakdown of the DIY installation process on our website. In case you need any guidance, you can reach out to our customer service representatives there, too!
Praise for GoShelf from a Satisfied Customer
Still slightly unsure whether GoShelf is right for you if you're new to taking on DIY projects? Check out this review from Laura B. for some reassurance of just how easy it is to install your very own GoShelf system:
"I just installed three shelves in my tiled shower and am so pleased with the results! My only tile experience is installing small backsplashes, but I was able to do these without a problem."
We really appreciate this positive review, and we love making our customers happy with our clever soap shower holder that effectively and stylishly stores soap and so much more.
Browse Our Shelf Styles Today
Ready to enter the wonderful world of GoShelf and enhance your shower in no time? The first step is to compare shelf variety options to find your very best match! Head over to our website now to get started.