Solution for Corner Shower Caddies: The GoShelf System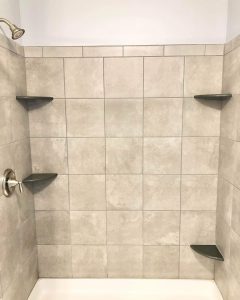 If you're short on shower storage space, well-designed corner shower caddies can totally transform your experience. But, if you're still using a caddy of yesterday – one that loses suction, attracts rust or gets in the way – then you're missing out! GoShelf, the shower caddy of the future, solves every single one of these common complaints and delivers beautiful, seamless storage in any corner of your shower. Keep reading to learn more about the perks.
Solution for Corner Shower Caddies: The GoShelf System
If you're eager to get your shower organized and equipped with an accessible system that meets your personal storage needs, look no further than GoShelf. Here's an overview of the simple process to add one to your shower:
Decide on your favorite GoShelf variety – We have many different options to choose from to help you complement your unique shower design. Send for samples to be sure you've found the most ideal pairing, or go ahead and order your GoShelf kit.
Follow the instructions – Your GoShelf kit will come with detailed directions on how to install your shelf for best results. First off, you'll make four small holes in the grout in the corner where you'd like to place your floating shelf. Add glue to the wall anchoring plates and insert them into the holes you made. Then, apply adhesive to the GoShelf channel, line it up with the anchoring plates and push it gently into place, so it is flush with the walls in the corner.
Let the glue dry & enjoy! – Allow about three hours for the adhesive to fully set, and your GoShelf will be ready to store your toiletries at an arm's reach, in an orderly fashion.
Need more than one shelf to accommodate all your bath and body products? Simply repeat this process to add more shelving!
Enter DIY-Friendly Shower Storage That Really Works
For corner shower caddies made simple and effective, homeowners across the U.S. count on GoShelf. If you're eager to join the many happy customers who've enhanced their showers with this product, head over to our website and start exploring shelf styles!