The GoShelf Solution: Shelving for Shower Stalls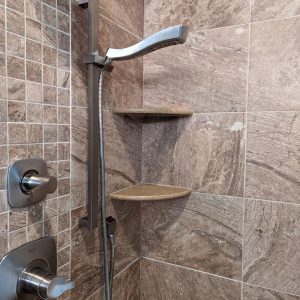 So, you've invested in a sophisticated shower that you adore the look of. But one thing is still missing… functional storage space for all your hair and body care necessities. If you're in this predicament, the good news is that GoShelf makes high-performance shelving for shower stalls of all sizes and aesthetics. You can add on a GoShelf at any point – even years after your shower has been grouted! Keep reading for more insight into how this system can take your shower to the next level.
The GoShelf Solution: Shelving for Shower Stalls
Made with the finest stone from around the world, but always manufactured and packaged in the United States, GoShelf is in a league of its own thanks to these key characteristics:
Won't collect rust or mildew – There's no cheap metal or plastic involved; just top-quality stone construction for easy maintenance and premium longevity!
Won't slip or slide around – The GoShelf channel gets fastened to wall anchoring plates that you insert at the horizontal grout line of your choice. The shelf butts up right into the corner for a perfect fit and assured sturdiness.
Professional look that's easy to DIY – Another perk of the GoShelf fitting snugly into any corner of your shower, between the tiles, is that this gives it a super sleek and finished look. The shelf will appear to float on the wall, as the anchoring plates will be covered once installation is complete. All the while, they'll be doing their job of stabilizing the shelf so that it can support 200+ pounds!
No risk of shower damage – Other shelving for shower stalls may require you to cut into or remove tile, which should be avoided at all costs from both an aesthetics and integrity preservation perspective. GoShelf only requires removing a small amount of grout, so there's no worries about doing harm to your gorgeous shower!
Whether your shower is spacious and luxurious or more standard and a bit tighter on space, you deserve beautiful, easy-to-install shelving. Don't settle for inferior options; go with GoShelf!
GoShelf: A Perfect Match for Every Shower
Still not totally sold on our DIY shower organization solution? Check out these reviews from two of the many customers we've made happy recently:
"…I'm not a construction guy, and it was easy and came out so good. Great product!!!"
"Perfect shelves for our shower. Very informative on installation and it worked out great for our situation. Thanks, GoShelf!"
If you're ready to try GoShelf for yourself, jump over to our online marketplace now to find your favorite styles and order samples or your GoShelf kit!