Soap Caddy for Shower Tile Is Beautiful and Easy to DIY – GoShelf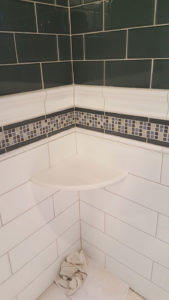 Without designated storage spots for bath and body products that stay in the shower, your bathroom can easily turn into an unorganized mess. So, whether you live alone or have a full household, an efficient system for storing your soap and other shower accessories is a must-have. GoShelf shower shelves serve as an excellent solution to shower organization dilemmas. Acting as a soap caddy for shower settings of all kinds, these shelves can be installed to tiled shower walls in minutes.
Soap Caddy for Shower Tile: DIY Installation How-To
Unlike many shower shelf products on the market, a GoShelf can be easily added to a finished shower without removing or damaging the tile. This makes it the ideal option – whether you're building a new shower, renovating or simply wanting to add storage to your existing shower.
So, how does one go about installing a GoShelf? The process is as easy as 1-2-3-4.
Step 1: First, grab a tape measure and a pencil so you can mark the four spots where you'll make holes in the grout for the GoShelf wall anchoring plates.
Step 2: Once you've made the marks, use the grout saw included in the GoShelf kit (or an oscillating power tool) to create the holes. You'll want the anchoring plates to go about halfway into the wall.
Step 3: Now, add glue to the wall anchoring plates one at a time and install them into the grout.
Step 4: Lastly, put a small amount of adhesive on the shelf channel and slide in onto the anchoring plates. Wipe away any extra glue and allow a few hours for it to dry completely before placing anything on the shelf.
Once you've completed these steps, all that's left to do is display your favorite shower products on your sturdy and sophisticated new soap caddy for shower storage!
Get Started with GoShelf: Browse Our Website Now!
Ready to revitalize your shower storage situation? A GoShelf is just what you need! Available in several sizes and a wide range of styles, there is a GoShelf product to suit every shower. To browse our selection and request samples, head over to our website!