How to Build Your Own Stylish In Shower Organizer – GoShelf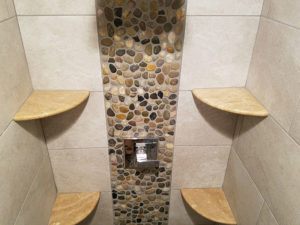 The shower is a communal space where everyone's "stuff" can easily get mixed up. In the absence of an efficient shower organization system, household members may struggle to locate their own bath and body products. If you've experienced this, then you know how much of a pain it is. Fortunately, there's an easy solution to this common issue: installing an in shower organizer made up of sturdy and sleek GoShelf shower shelves.
How to Build Your Own Stylish In Shower Organizer
Step 1: Decide how many shelves you need – GoShelf shelves are designed to float in the corner of the shower. Depending on your shower size and how many people use it, you might choose to add one GoShelf or a few shelves at different elevations (as pictured above). The configuration is all up to you!
Step 2: Select your favorite GoShelf style – Once you've figured out how many shelves you need to optimize your shower storage, it's time to pick the GoShelf style that best fits your shower. Have a look at our color selection to find your perfect match!
Step 3: Install your GoShelf in shower organizer – Whether you opt for one shelf or several, adding a GoShelf system to your shower is unbelievably simple. With just a few tools and four easy steps, you'll have a dependable place to store and organize toiletries for every family member or roommate.
For in-depth instructions and a video tutorial demonstrating how to hang a GoShelf, click over to our website.
Why Choose GoShelf Over Other Shower Storage Options?
As we've already touched on, the GoShelf looks elegant in the shower, makes organizing effortless and is a piece of cake to install. But just in case you need more proof as to why you should go for a GoShelf in shower organizer, here's a review we received from Amanda C.:
"I'm surprised by how much of a difference these shelves make in my shower! The only thing my husband did was help pick out the color, so anyone can install these! Thanks for sending the samples so fast. It took me weeks to decide and then a few months to get the nerve to install the shelves once I had ordered. I wish I had found you sooner because it makes such a difference in our shower. Thank you!"
Ready to get your shower in order? Start browsing the GoShelf online catalog and request samples today!