Stylish and Sturdy Shampoo Shelf for Tile Shower from GoShelf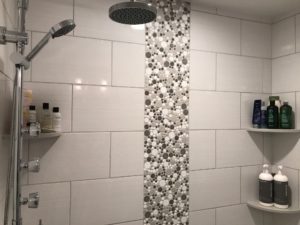 Tired of having to rearrange your toiletries to find the product you're looking for each time you shower? This is a common side effect of inefficient shower storage systems. When it comes to keeping your shower in order, a high-quality soap and shampoo shelf for tile shower applications can make a world of difference. The GoShelf corner shower shelf goes above and beyond your average shower caddy, providing a convenient and efficient storage solution that is a breeze to install.
Shampoo Shelf for Tile Showers: Why GoShelf Beats Other Options
Maximum Versatility – No matter what your shower layout looks like, a GoShelf shelving system will fit right in. It can be added to your shower niche or corner at any elevation you desire. You can even install a few shelves at different levels if you need the extra storage!
Uncomplicated, Damage-Free Installation Process – The beauty of the GoShelf is that you won't need to remove tile or otherwise damage your shower in order to install it. To learn just how easy it is to put up a GoShelf yourself, check out our guide to building an in shower shelf unit.
Elegant & Professional Look – The GoShelf is a seamless solution with no visible means of support – in other words, it looks as if it belongs there! Since these chic shelves are available in many styles, you'll have no trouble finding a GoShelf that looks amazing in your shower.
How Do Customers Rate the GoShelf?
Here's what David had to say after putting up his GoShelf shampoo shelf for tile shower settings:
"I'm not a handyman or very skilled at home improvement. But I was able to put these shelves in our shower with the accompanying instructions with no problem. Excellent customer service after the sale. They quickly answered all my email questions and gave extra advice on the install. My wife and daughter love the look! The instructions describe using the included grout saw or an angle grinder to cut into the existing tile grout, but I was able to do it with my Dremel 4000 tool with a right-angle attachment and tile cutter blade. Very happy with this product!"
Ready to be blown away by our revolutionary shower storage system? Click over to our website to select your favorite GoShelf style!