Where to Put Shelves in Your Shower: 3 Easy Ideas from GoShelf
For those of us who could use some extra storage space in the shower, GoShelf shower shelves offer a functional and stylish solution. The best part about these easy-to-install shelves? You can place them in any corner of your shower, at any height, to create a customized configuration that fulfills your needs. We know that deciding where to put shelves in showers can be tricky, so we're here to help you brainstorm!
Where to Put Shelves in Your Shower: 3 Easy Ideas from GoShelf
Option #1 – 4 Shelves, 2 Levels: This setup is ideal for shared showers or individuals who love their bath and body products! The symmetrical shelving creates a unified design while providing plenty of storage space for all the essentials. It would be perfect for a household of four, allowing every person to have their own designated shelf.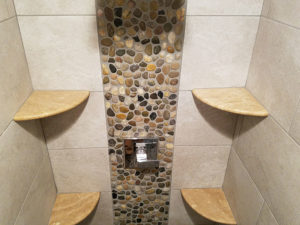 Option #2 – Low Shelf: In this configuration, the main shower toiletries holder is the built-in ledge. Just as important, the GoShelf offers supplementary storage space for larger items, plus a convenient spot to place your foot while shaving.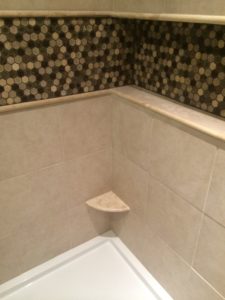 Option #3 – Triad Shelving: In this personalized shelving arrangement, there's a spot for everything – including hair care products, body washes, facial cleansers and more!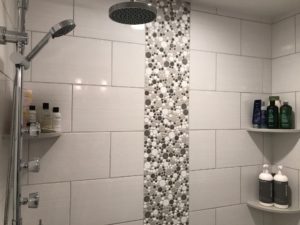 Ultimately, where to put shelves in a shower for best results will depend on your unique storage needs and the layout of your shower. Hopefully, these ideas will give you some inspiration as you create your own shelving plan!
Get Going on Your GoShelf Project Today!
Ready to start designing your custom shower storage system using sleek, sturdy shelves from GoShelf? Head over to our website to browse our wide selection of shelf styles. And while you're at it, don't forget to check out our photos and videos to get more ideas for where to put shelves in showers!