Do-It-Yourself Ceramic Tile Shower: The GoShelf Method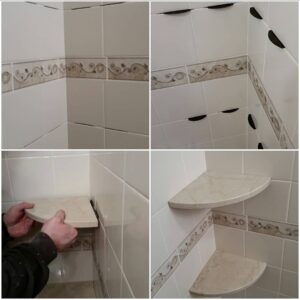 In just about any American household, shower storage space is at a premium. Whether you have an extensive collection of bath & body products, or you're just looking to keep those everyday necessities organized & within easy reach, adding a GoShelf corner shower shelf can make a huge difference! This do-it-yourself ceramic tile shower storage solution is beloved by many, thanks to its flawless design and the fact that it can be easily installed without removing or damaging existing shower tile.
Do It Yourself Ceramic Tile Shower: The GoShelf Method
What makes GoShelf the superior product for those seeking a bathroom storage fix that's highly functional & reliable, yet doesn't compromise on style? Allow us to highlight a few key advantages offered by this winning approach to do-it-yourself ceramic tile shower storage:
Finished in just a few hours! – The groundbreaking GoShelf design makes installation a breeze, whether you're a tile contractor or a not-so-experienced DIYer. Just four straightforward steps and a few hours, start to finish – that's all it takes to add sturdy shower shelving which will stand the test of time and never go out of style!
Everything you need, all in one kit – To make your life as easy as possible, we include all the essential materials required to complete a standard GoShelf install, including a handheld grout saw. To reiterate: You won't have to make any large, invasive cuts in your shower walls in order to successfully add a GoShelf. The wall anchoring plates get inserted between the existing tiles, so you'll just need to create four small grout holes (per shelf) at your desired height.
This is merely the beginning of why the GoShelf receives rave reviews from all who try it! To learn more about the easy installation process, check out our detailed instructions page.
Revitalize Your Shower with a Customized GoShelf System
Is your current shower storage "solution" letting you down? Enter a new world of organized, beautiful & hassle-free bathroom shelving with the GoShelf system! On our website, you'll find a full & varied selection of elegant shelf styles. Start browsing now to locate your favorite GoShelf varieties & start brainstorming your ideal shelving layout!