Looking For a Shower Soap Tray? Opt For a GoShelf Instead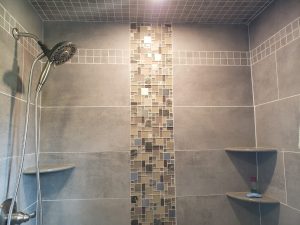 Tired of losing your bar of soap in the shower? Installing a designated shower soap tray may seem like your best bet to solve this annoying dilemma. But once you have a soap dish, where do you put it? A GoShelf serves as the perfect spot to place just about anything in your shower, from soap to body wash to hair care products. Let's go into how these brilliantly versatile corner shower shelves work.
Looking For a Shower Soap Tray? Opt For a GoShelf Instead
Far more thoughtfully designed than your average shower caddy or basket, a GoShelf can offer a permanent solution to all of your shower storage needs. Check out some of the key features:
A GoShelf can be installed by anyone with a bit of DIY ambition. All the necessary components come included in the kit. The installation process only requires taking out a small amount of grout for the four wall anchoring plates that keep the shelf sturdy in the wall – no tile removal involved!
Our shelves have a slight forward slant. This way, the water slides off instead of sitting and setting the stage for mildew to collect. This design prevents gross, soggy soap and solves an all-too-common shower storage product flaw.
We have a shelf style to match any shower. From Sparkle White to Cappuccino to Black Granite, our wide array of shelf varieties has it all. Whether your shower has a traditional or modern aesthetic, you'll have no trouble finding a GoShelf that looks like it was tailor-made for it.
There are several more perks where these came from! If you're eager to learn more about the GoShelf system, head over to our website for FAQs and detailed installation instructions.
Join the GoShelf Revolution
Ready to ditch that flimsy shower soap tray or dish in favor of a long-lasting system that will reliably enhance your shower space, plus lend it a more professional finish? GoShelf gives you all this and more! See for yourself how this innovative system can transform your shower by browsing styles and ordering shelf samples or your complete GoShelf kit today!