GoShelf Makes the Perfect Modern Shower Ledge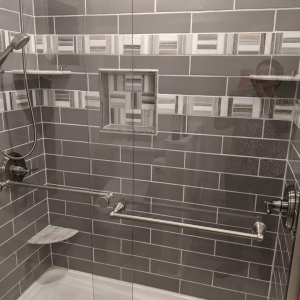 Looking to enhance your shower in 2023? A modern shower ledge can take your bathroom design up a notch in terms of both usability and professional appearance. But, how do you add a ledge to your shower without doing a total renovation? The GoShelf system is your go-to answer!
GoShelf Makes the Perfect Modern Shower Ledge
If you're already mostly happy with the look of your shower and just need a bit more storage space or organization, there's no need to rip off the tile or risk damaging it. GoShelf gives you a simple way to safely add practical storage while protecting your beautiful shower walls.
Here's how it works and why it's such a spectacular solution:
A GoShelf can go in at any horizontal grout line, in between wall tiles. The system relies on wall anchoring plates to keep the shelf in place and ultra sturdy. You'll only need to remove a small amount of grout in order to put these in, which means you won't need to hassle with trying to remove the tile itself.
Made of top-quality, easy-to-maintain stone, a GoShelf will remain stunning for many years to come. These shelves are highly versatile and can be used to stow anything from soap to hair care products to shaving supplies. You can even place a GoShelf at knee or shin level to use as a prop for leg shaving.
If you're looking for the most longwearing and visually stunning modern shower ledge, there's no contest – it's got to be GoShelf!
Discover Professional Shower Storage You Can Do Yourself
Need a bit more proof that GoShelf is your very best bet for DIY shower improvement? Check out this review from a GoShelf enthusiast named Sam:
"I just wanted to say that we have three GoShelves, two with the loofah attachment. They have been awesome! The shelves are easy to install and look elegant in our new shower. The customer service at GoShelf has been outstanding. I had a small problem with one of my shelves and they took EXCELLENT care of my issue. I would highly recommend them over any other shelving product."
What are you waiting for? Head over to our online store now to start comparing shelf styles and find the best option for your personal shower design and storage needs!