The Ultimate Shampoo Holder: The GoShelf System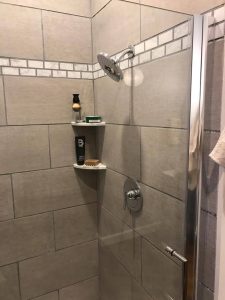 Looking for a reliable shampoo holder you can add to your shower yourself and start putting to use in just a few hours? Search no more now that you've stumbled upon GoShelf! Our cleverly designed DIY corner shelves solve all sorts of typical shower storage concerns, with built-in defense against rust, mildew, slipping out of place or damaging your shower during or after installation.
The Ultimate Shampoo Holder: The GoShelf System
GoShelf is the unmatched product for holding your shampoo, conditioner, body wash, soap, razor and other shower essentials on a daily basis. We say it's unrivaled for many reasons, but just to name a few:
A GoShelf can be installed at any horizontal grout line, with no need to remove or cut into the actual wall tile. This protects your shower's appearance and integrity and makes installation an easy project that virtually any DIYer can tackle in a single morning or afternoon.
When properly installed according to the simple, in-depth instructions provided with the kit, GoShelf won't budge. Whatever you decide to store on it, it's built to handle the job!
Made of stone, a GoShelf is very easy to maintain. Simply wipe it down on occasion with a microfiber cloth to keep it spotless.
You can even get creative with your GoShelf, putting it to use as a perch to shave your legs on or a shelf for outside the shower, to hold flowers, books, etc.
These are some of the main reasons why GoShelf wins the award for best shampoo holder out there. As our fellow shower improvement enthusiast Mike from Tennessee was thrilled to tell us:
"The shelves were a piece of cake to install and look great!!"
Get Started On Your Shower Enhancement Journey
Ready to upgrade your shower with highly functional and attractive shelving that holds benefits unlike any other product on the market? GoShelf is the way to go! So, head over to our website now to begin browsing shelf styles, order samples of different varieties or go ahead and purchase your GoShelf kit directly. Happy installing!