Create a Custom DIY Shower Organizer with GoShelf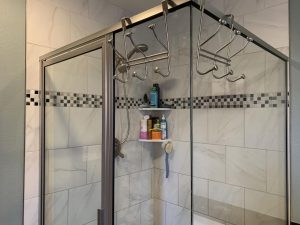 Is one of your 2023 resolutions to improve your bathroom storage setup? Creating a DIY shower organizer with GoShelf can help you achieve this goal seamlessly! These shelves work hard to keep all of your shower must-haves in order – but they couldn't be easier to install yourself. Keep reading to learn more about how to plan and execute the storage system you've been dreaming of with these well-designed shelves!
Create a Custom DIY Shower Organizer with GoShelf
Here's the gist of the simple process for enhancing your shower with GoShelf:
Decide how many shelves you need – Maybe you're a minimalist and a single GoShelf will do the trick, or perhaps you'll want to add a set to provide plenty of storage space for multiple household members. Either way, you can fit these shelves snugly into any corner of your shower!
Select the style that best complements your bathroom – We have more than a dozen gorgeous shelf designs to choose from. You can find photos on our website and even order samples, in case you're torn between a few different varieties.
Order your kit and install – Once your GoShelf order arrives, unpack the kit to find everything you need to add your beautiful, durable new shelves to your shower. We'll include detailed instructions, but you can always reach out if you have any questions.
We hope this rundown gets across just how easy it is to make your own DIY shower organizer with GoShelf – but don't just take it from us! Check out this testimonial Denise T. shared about her positive experience:
"Wow – these are awesome! So much better than the adhesive shelves we were using that kept falling down. Easy install with 4" angle grinder. Guess which shelf is mine and which is my husband's (9" shelf holds a lot!)? Thank you for a great product!"
Get Your Shower in Order with GoShelf
If you've been looking for a sign to freshen up and organize your shower, this is it! GoShelf brings you the easiest way to do so with lasting success. Click over to our website to start shopping!