Fantastic Shower Soap Holder & More: The GoShelf System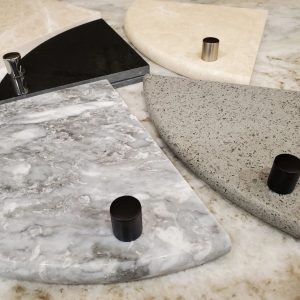 On a day-to-day basis, the amount of time you spend in the shower might not seem significant. But, when you consider it over the course of your lifetime, it really adds up! So, why not make your shower as convenient and comfortable as possible? One simple thing you can do in pursuit of this goal is to add on a shower soap holder that's both functional and professional looking: the GoShelf!
Fantastic Shower Soap Holder & More: The GoShelf System
If you've ever found yourself wishing you had a more organized system for storing your daily shower necessities, then a GoShelf will surely be a worthwhile addition. Here are some of the things our customers love most about our revolutionary shower shelf design:
GoShelf can accommodate just about anything you might need in the shower – Use it as a shampoo and conditioner shelf, a shower soap holder, a place to stow your razor or even a perch to shave your legs. We also offer loofah holder hooks tailor-made to fit your GoShelf.
GoShelf goes up fast! – All the tools you'll need will come included in the kit, as well as step-by-step instructions. You should be able to DIY it in a single morning or afternoon!
GoShelf is reliable and won't damage your shower – Many shower storage products come with concerns about shifting around or falling down. But not GoShelf! It gets installed at the grout line via wall anchoring plates, so it'll stay put – but it also won't cause harm to your tiled walls.
Dedicated to customer satisfaction, the team behind GoShelf is always thrilled to hear that our product has made someone's life easier and better. Here's what one of our latest happy customers, Tammie, had to say after completing the installation of her three-tiered GoShelf system:
"Thanks for the wonderful shelves. We installed two 7" and one 9" dark grey shelf. This is a great product."
Ready to Go? Place Your Order Online
If you're excited about using GoShelf to enhance your shower, ordering your very own kit is as easy as visiting our website and choosing your favorite shelf color and size! Don't be afraid to mix and match shelves to accomplish your vision and suit your unique storage needs.