How to Make Your Shower More Luxurious with the GoShelf System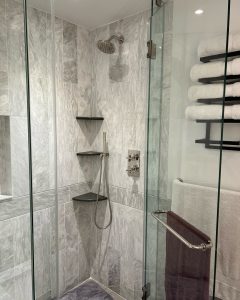 First and foremost, your shower is a place to get clean; but, it can also be a haven for relaxation and renewal. If you're looking for tips on how to make your shower more luxurious, adding fabulous shelving is a great place to start! The GoShelf system allows you to do so with ease, so you can store and display all of your favorite products for self-pampering at an arm's reach. Allow us to tell you how a GoShelf goes up in minutes and is ready to use within a few short hours.
How to Make Your Shower More Luxurious with the GoShelf System
When it comes to making a shower more extravagant with built-in shelving, many people assume that they'll need to do a full remodel. But, with GoShelf, there's no need to spend time and money ripping out tile. This shelving solution is compatible with already tiled shower walls and won't do any damage, as it gets installed at the grout line.
Here's how to DIY a GoShelf installation:
Decide where you'd like your shelf or shelves to "float" – this can be in any corner, at any horizontal grout line. Measure and mark the four spots where you'll remove a small amount of grout to insert the wall anchoring plates for each shelf.
Take out the grout where you marked using a handheld grout saw or your choice of oscillating power tool.
Add adhesive to both sides of each anchoring plate and push them into the holes you've made. Then, do the same with the GoShelf channel and slide it onto the plates.
Allow around three hours for the glue to finish drying before putting anything on your new GoShelf or shelves.
And that's all! Once you've followed these simple steps, you'll be ready to begin enjoying your high-quality new shelves. With minimal maintenance, a GoShelf will remain attractive and functional for many years into the future!
Add Organization & Brilliance to Your Shower with GoShelf
If you've been wondering how to make your shower more luxurious without a major renovation project, the GoShelf is a great answer. Available in 15 elegant stone styles, these shelves can instantly upgrade any shower. To compare shelf options and place an order for samples or a GoShelf kit, head over to our website now!