Best Bet For Tiled Shower Shelf Insert: The GoShelf System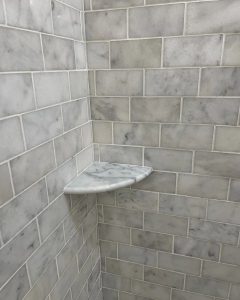 Do you love the look of your shower but find yourself wishing it had more usable storage space? A GoShelf is just what you need! This tiled shower shelf insert allows you to add an extra place to put your daily shower essentials in any corner, without taking off any tile and risking damage to your beautiful shower. Best of all, you can do it yourself!
Best Bet For Tiled Shower Shelf Insert: The GoShelf System
To give you a better idea of why GoShelf is the nation's leading corner shower shelf, let's answer some questions we commonly receive:
What do I need to install a GoShelf? – All the basics will come included in your GoShelf kit. With each GoShelf you order, you'll receive: a shelf channel in the style you selected, four wall anchoring plates, a container of glue (recommended to be used within 30 days for best results), one metal and one plastic razor blade and detailed installation instructions.
How do I know what size to buy? – It all depends on what you plan to use the shelf for… a simple bar of soap may be well accommodated by our 7" shelf, whereas storing larger toiletry bottles might call for a 9" shelf. There's also an 8" option, and you can add a loofah holder accessory to any GoShelf. Feel free to mix and match sizes to create a custom shelving system that meets all your needs!
How does the GoShelf hold up over time? – The GoShelf is designed to be slightly front heavy, allowing the water to run off to prevent mold and mildew from forming. Since it's stone, it won't rust, and it can be easily freshened with a microfiber towel. As for its sturdiness, it's tested to hold up to 100 lbs., so it won't let you down in that category either!
Versatility, durability and ease of installation are just a few of the many things to love about the GoShelf system.
Choose the GoShelf That Best Complements Your Shower
Eager to improve your shower storage situation while avoiding a full-blown bathroom renovation? GoShelf is the glue-on tiled shower shelf insert solution you've been waiting for! To browse our luxurious shelf style options and place your order easily and securely, click over to our website now.