Need Ledge in Shower? Stay Safe with the GoShelf System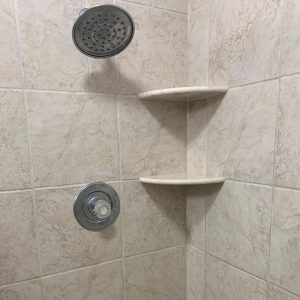 From adding more storage space for daily hair & body care products to making your bathing routine safer and more convenient, there are several possible reasons why you may wish to install a ledge in shower. With the versatility to be put in at any height, in any corner, the GoShelf brings a range of practical benefits to the bathroom. Today, we'll talk more about the many possible applications for these stone corner shelves.
Need Ledge in Shower? Stay Safe with the GoShelf System
Whether you're in search of a ledge in shower to support you or to hold your everyday shower necessities, GoShelf can help! These shelves get installed between tiles, with anchoring plates that go in at the grout line. This means there's no need to remove any wall tile and minimal risk of damage to your shower walls. It's a great solution for any stage of your shower improvement journey! Not to mention, these impressively sturdy shelves are tested to hold upwards of 200 lbs.
Here are just a few of the many ways you can use a GoShelf:
To prop up your foot while shaving, if you place a shelf low on the wall
To store your shampoo, conditioner, soap, razor and more within arm's reach, so you don't have to bend down in the shower
To hang your loofah to dry, if you add on a loofah holder accessory to your GoShelf
To keep your shower organized and optimize the space, whether it's compact or spacious
Now that we've shared these possibilities, here's some praise for the GoShelf system from a happy customer named Diane:
"I'm 67 years old and installed these shelves by myself using an oscillating tool to remove the grout. They were easy to install, and the color was nearly a perfect match! I'm very pleased with the outcome."
Get to Your Ideal Shower Space with GoShelf
Eager to discover how a GoShelf can enhance your shower? Jump over to our website now to view all the different styles and sizes, order samples of your top three or buy your kit right away!