Shower Rack Keeps Falling? Check Out the GoShelf System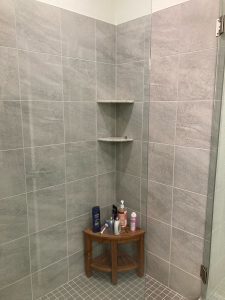 Among the biggest complaints about shower storage systems is that the shower rack keeps falling down. If you've experienced this headache with a caddy or other storage "solution" in your shower, then you know just how frustrating it can be. And surely, you'll be thrilled to hear that there's an infinitely better way to hold and display all of your bath and body products: the GoShelf system!
Shower Rack Keeps Falling? Check Out the GoShelf System
At GoShelf, we know how not-fun it is when a shower rack keeps falling. In fact, this is one of the primary reasons we set out to invent a smarter shower storage product that won't let you down. Here are a few key features that make our system the optimal option for anyone in search of an efficient, reliable and professional looking shower storage solution:
Our shelves are made for the DIY home improver. In other words, they're super straightforward to install in just a few steps and a few hours' time. And since these stone corner shelves get installed at the grout line, there's no need to take any tile off your walls – what a relief!
For double the functional & stylish storage, a GoShelf system can be paired with a corner shower bench or stool underneath. Or, add a GoShelf at shin height to provide the perfect spot to place feet to shave legs!
We also have a loofah holder add-on that's intentionally designed to answer the question of where to put your wet loofah to dry between uses. They're available in brushed gold, brushed nickel, black and chrome to suit any shower style!
This is just the start of why GoShelf is the preferred choice for experienced tile contractors and DIYers alike. To learn more about how these shelves go up quickly and easily and then last for years, check out this installation overview.
Go Sleek, Dependable and Beautiful with GoShelf
When it comes to the most efficient and long-lasting shower storage systems, nothing compares to GoShelf. Browse our shelf style options and order samples today on our user-friendly website! Our shelves are proudly made in the USA and ship to you for free.