Best Bathroom Shower Caddy Ideas: The GoShelf System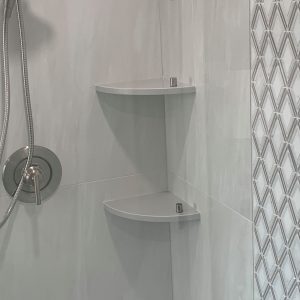 If you're on the hunt for sleek, clever bathroom shower caddy ideas and inspiration, look no further than GoShelf! We're here to share some of our favorite ways to use our sturdy, easy-to-install ceramic shower shelves.
Best Bathroom Shower Caddy Ideas: The GoShelf System
Multi-level bath & body product storage – Installing a vertical GoShelf system in a corner of your shower is a wonderful way to keep all your hair and body care essentials organized and easy to grab. Pro tip for guest bathroom showers: Put in an extra shelf to provide plenty of space for your guests to stash any products they bring along!
Loofah holding station – We recently released a loofah holder add-on that's available in several different beautiful finishes. Give your loofah a place to hang and dry in between uses by adding one to your GoShelf. With this handy accessory, you can say goodbye to those unreliable suction-on baskets once and for all!
Shaving shelf – Finish out your convenient, professional looking shower storage system with a bottom shelf at just the right height for shaving your legs. This will promote your safety while saving you hassle!
Here at GoShelf, we're always ecstatic to hear from our customers about how our product has improved their lives. Here's one of the latest reviews we received, from Bob in Florida:
"I installed a third unit for my wife when shaving her legs – she is thrilled! Ordered two more for our other bathrooms. My friend's ordering very soon; I showed him ours over the weekend! Keep up the good work."
We're so glad that Bob and his wife are enjoying their GoShelf system – the Poly Grey shelves they chose are a great complement to their crisp white tiled shower!
GoShelf: The Unparalleled Choice for Stylish, Dependable Shower Storage
As we've hopefully demonstrated with these bathroom shower caddy ideas, the GoShelf is a highly versatile and user-friendly shower storage option. Whether you're looking to install a DIY shower insert soap holder, a shaving shelf or a multipurpose caddy system, you won't find anything better than a GoShelf! To begin browsing styles and order your kit, head over to our website now.