Top Bathroom Recessed Shelves Ideas: The GoShelf System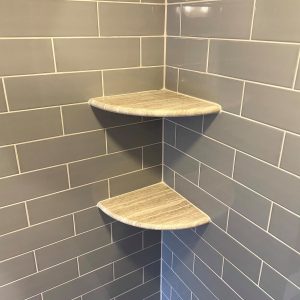 Is getting your shower organized one of your resolutions for 2022? This can seem daunting, especially if you have a large collection of bath and body products, but fear not – GoShelf is here to make the process a whole lot easier! When it comes to bathroom recessed shelves ideas, the GoShelf system is the brightest one out there. Let's talk about why!
Top Bathroom Recessed Shelves Ideas: The GoShelf System
What sets GoShelf apart from other built-in bathroom storage shelving options? Here are the qualities that make this system the standout choice:
Dependability – We've been testing this system since 2013 (nearly a decade), and it has not failed or fallen yet! And rest assured, we've really put its strength to the test, proving that it can hold 200+ pounds.
No Support System Visibility – With the capability to hold so much weight, you might expect the GoShelf system to show where all that support comes from. However, we've designed it with both function and aesthetics in mind to deliver the most seamless, professional look! Four anchoring plates go half into the wall at the grout line and half into the GoShelf channel to provide a reliable, out-of-sight hold.
DIYability – One of GoShelf's biggest draws is that you can install it yourself. Find full instructions on our website and all the tools you need to complete the project in your GoShelf kit. Start to finish, the installation should only take a few hours and four easy steps!
Customizability – With a GoShelf system, your style and configuration possibilities are virtually endless. Choose from over a dozen sleek colors and patterns, and design your shelving solution to suit your personal needs and shower space. Source inspiration from the many bathroom recessed shelves ideas we've shared on our blog!
Discover the GoShelf Difference
If you've been let down by shower caddies or stick-on shelves in the past, it's time to try a true solution to all your shower storage needs: the GoShelf system. Start exploring shelf style options and order samples of your favorites on our website today!