Find a Shower Niche for Shaving Legs: The GoShelf System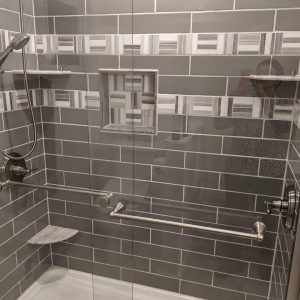 Looking for versatile shower shelving that will enhance your bathroom's functionality and beauty – not take away from it? The GoShelf system is a clear winner! Thoughtfully designed, these shower shelves get installed at the grout line, giving you freedom to create a splendid storage system without damaging the tile. They can even be used as a shower niche for shaving legs more safely and conveniently. Continue reading to learn more!
Find a Shower Niche for Shaving Legs: The GoShelf System
While the average shower caddy leaves a lot to be desired, the GoShelf system is a revolutionary shower holder that delivers in every category. From ease of installation to professional look to reliability, these stone corner shelves won't let you down. They're well equipped to hold and organize all your shower essentials, especially if you add on a loofah holder. To complete the system, you might also choose to install a shower niche for shaving legs lower on the wall.
Want a firsthand account of why you'll never go back to other shower storage products once you experience a GoShelf? Check out this review we recently received from a delighted customer named Sam:
"We have three GoShelves, two with the loofah attachment. They have been awesome! The shelves are easy to install and look elegant in our new shower.

The customer service at GoShelf has been outstanding. I had a small problem with one of my shelves and they took EXCELLENT care of my issue. I would highly recommend them over any other shelving brand."
This sums up the perks of getting your shower shelving from us pretty well – but you can also check out our installation guide and FAQs for more details.
Build Your Custom GoShelf System
Ready to beautify your bathroom with shower shelving that simplifies your daily life? Head over to our online store to browse our range of GoShelf designs and find your favorite! We suggest planning out where you'll put each shelf in advance, but you can always order and install additional shelves later if you find that you need them. For any questions, you can reach us via the contact form on our website!