Easy Install Bathroom Shower Shampoo Rack: The GoShelf System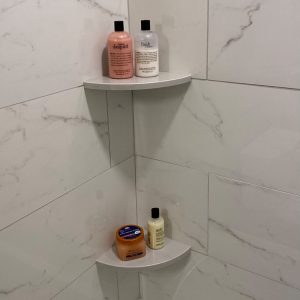 Are you someone who likes to stay organized in every aspect of your life? There's no reason why you shouldn't be able to extend this to your shower… But, so-called shower organization solutions often fall short of being reliable & aesthetically pleasing. That is, until the GoShelf system was created! Thanks to these inventive stone corner shelves that get installed and "float" at the grout line, keeping your body & hair care products in order is now a breeze. Today, we'll go into detail on how to add a bathroom shower shampoo rack with GoShelf.
Easy Install Bathroom Shower Shampoo Rack: The GoShelf System
Step 1 – Plan your shelving configuration: We offer 14 different styles to select from, as well as three different shelf sizes – 7", 8" and 9" – so you can find the perfect one to hold your toiletries of choice. We recommend a 9" shelf for a bathroom shower shampoo rack, whereas you might want a smaller shelf to hold a bar of soap or to use as a shaving foot rest.
Step 2 – Order: Once you've scoped out our selection – plus thought about how many shelves you need and where you'll put them – you can order samples on our website to make sure you're choosing the best fit. Or, you can go ahead and order your GoShelf kit if you're confident you've found a shelf design you'll love. You can expect quick and free shipping on every order in the US!
Step 3 – Install: A GoShelf goes up in just four easy-to-follow steps that even a DIY novice can handle. Everything you need for the project comes included in the kit – the GoShelf channel, wall anchoring plates, adhesive, razor blades and instructions.
And voila! After waiting a few hours for the glue to set, you'll be ready to use your new GoShelf system to hold all your shower essentials – shampoo, conditioner, body wash… even a loofah if you add on our handy-dandy loofah holder!
See for Yourself Why GoShelf Is the Go-To for Simplified Shower Organization
If you've been searching for the most practical and attractive shower storage solution around, the GoShelf is your answer. To get going on the project of adding a custom shelf system to your shower, head over to our online store now – many beautiful options await you!